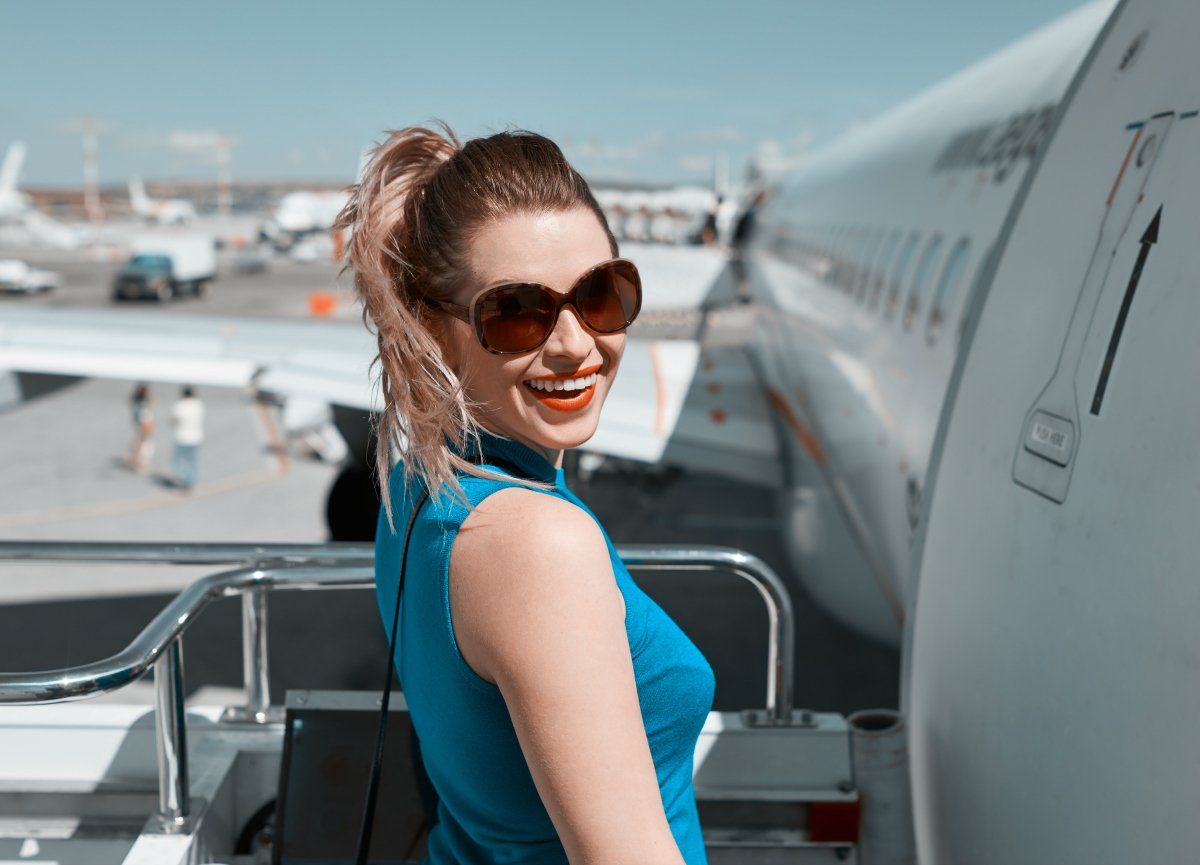 Holiday plans and winter vacations make this time of year a popular one for air travel. But why does it always seem that no matter how much time and effort you put into picking the perfect airport outfit and styling your hair before your flight, you always arrive at your destination looking disheveled and baggy-eyed? It's because the stale, dry air inside the cabin does a number on your body's moisture levels. Luckily, there are some easy beauty tricks that can keep you looking gorgeous, even across time zones.
Whether your destination is the picture-perfect beaches of Croatia or your small hometown you swore you'd never go back to, these beauty tips will help you arrive fresh, glowing and ready to party.
Hydrate like you've never hydrated before
Air is continually pumped inside the plane to boost circulation in the cabin, but unfortunately, this air is super dry. To avoid that withered look it's essential to buy a large bottle or two of water after passing through security and before boarding your flight. Drink more than you think you'll need. One flight attendant told POPSUGAR that she tries to drink at least one liter of water for every six hours of flying, and two liters if she's headed to Europe.
Go heavy duty with the moisturizer
To further combat cabin dryness and keep skin looking bright, you'll need to pack a few high-quality moisturizers in your carry-on (all in TSA-approved sizes, of course). "Skin gets very little oxygen during flight time as you are enclosed in an encapsulated environment without fresh air depending on recycled air and therefore it does not get cleansed thoroughly. A face mist will help keep moisture levels up even through the longest of flights."" said ELEMIS Director of Product and Treatment Development Noella Gabriel in an interview with Get the Gloss. "This immediately results in dehydration, sensitivity and tired dull skin. It's important to travel with well-cleansed skin, apply two layers of moisturizer and avoid makeup. Always carry a travel size moisturizer to apply during your flight."
Spritz on a face mist
A light and rejuvenating face mist will help keep moisture levels up even through the longest of flights. Mineral water and rosewater mists are great picks, along with ones containing soothing grape water. Just a few sprays and you'll feel refreshed and calm, even if that kid behind you won't stop kicking your seat. Top with a light layer of moisturizer to help the mist absorb better.
Toss a mini dry shampoo in your bag
A cute mini bottle of dry shampoo will save you from the seemingly inevitable post-arrival hair slump. Spray on roots and massage into hair in small circles to help the formula absorb grease and add volume. If all else fails, a chic black Bardot-inspired head wrap paired with a pony tail or messy bun will hide flat and greasy hair.
Pack your carry-on with skin-saving moisturizers, face mists and hair-boosting dry shampoos.
Remember your SPF
While most people know what dry cabin air can do to skin, they don't realize that rays from the sun are more damaging at higher altitudes. A small tube of broad spectrum UVA/UVB sunscreen will make sure that you're treated to amazing views from that coveted window seat, and not aging from exposure to the sun.
Baby your lips
Along with the rest of your face, delicate lips can get chapped and dried out during your flight. Try to avoid licking chapped lips, as this only makes them worse. Instead, as soon as you take your seat slather on a rich moisturizing lip balm made with nurturing ingredients like shea butter and jojoba oil. One made with a minty flavor, like ELEMIS Lip Revive, has the added benefit of freshening up plane breath.
Feel and look like the glamorous jet-setting babe of Hollywood flicks with these simple air travel beauty tips.