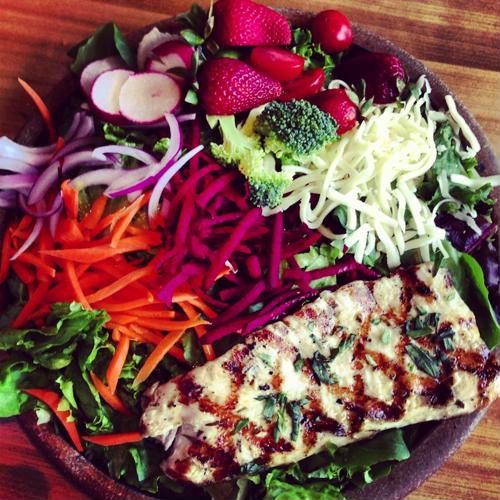 Is your New Year's resolution to lose weight? Then you'll want to focus on putting more veggies on your plate this year. Vegetables have a knack at helping us feel energized and stay on track with our diet goals.
But don't worry - it's not going to be all bitter broccoli and sad salads. Below our the top veggies for weight loss, and some delicious ways to enjoy them:
Zucchini
Ah zucchini, you've certainly benefited from a PR overhaul in recent years. Once relegated to generic side dishes, zucchini has taken on a new life thanks to the invention of vegetable spiralizers. Zucchini swirls enable you to create carb-conscious, guilt-free "pasta" and "noodle" dishes, without skimping on taste or leaving you still hungry at the end of your meal. Zucchini spirals should be a staple of any diet for their versatility.
Leafy greens
If you're still munching on iceberg lettuce, you're probably not doing your diet any favors. There's an exciting treasure trove of delicious leafy greens out there that are not only filling but also nutritional powerhouses. Spinach is a good one to munch on frequently, as it contains thylakoids, compounds that help ward off cravings, Eat This, Not That! explained. Other great bets are kale, watercress and Swiss chard.
Mushrooms
Mushrooms are a godsend when it comes to weight loss diets. Their hardy consistency make them great substitutes for meat, beefing up dishes like stroganoff, stir fry, spaghetti and meatballs and casseroles without the substantial of calories of red meat. Grill a portobello mushroom cap and top it with goat cheese, or make a stew with bone broth and a variety of mushrooms for a rustic, nutrient-packed dish.
Broccoli
With a satisfying snap, broccoli is a great addition to your diet. It aids digestion and helps you feel full, while it also contains lots of important nutrients like vitamins C and K. Bulk up your dinner meals with broccoli: Add them to stirfries, pasta dishes and rice pilaf, or sprinkle them with lemon juice, olive oil and sea salt for a delicious side to grilled chicken and fish.
With all the creative ways to prepare them, veggies deserve a front-and-center spot in your diet. Munch on the veggies above to help you ward off cravings, feel full after meals and stay on track with your weight loss goals this year.