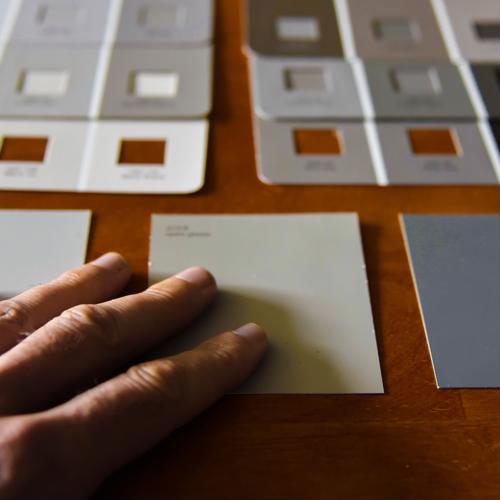 Adding pops of color to your home is a simple and quick way to give your space a refreshed look and feel. With a little paint and colorful accents, you can completely transform your home with trendy and polished finishes.
Redecorating an entire room or home can be daunting with endless color combinations to choose from, so don't worry if you're unsure where to start. Follow these designer tips to choose the perfect color palette for your home:
1. Get close to the color wheel
The color wheel will be your best friend during the process of choosing a palette. Where the colors land on the wheel dictates how they complement or contrast each other. For a monochromatic look, you'll want to stay in the same area of the wheel, or even choose different shades of the same color. According to HGTV, if you want to create a relaxing, harmonious space, go for colors that are next to each other on the color wheel, such as blue and green. If you want to evoke bold contrast, go for colors that are opposite from each other, like teal blue and burnt orange or mustard yellow and deep purple.
2. Follow the three to five rule
The golden rule of thumb is to choose three to five colors for one space. If you choose too many colors, you run the risk of creating a busy and overwhelming room with clashing elements. Hey There Home suggested an easy formula for choosing these colors, which starts with picking a white. Yes - not all whites are alike. They have different undertones, like yellow or grey, which will pick out the hues in your other color choices. Next, pick a neutral color or subtle hue. Choose a wow-factor main color, such as a deep blue, along with a lighter shade of that hue to complement the tone. Finally, choose a fun, wild card accent color.
3. When in doubt, go timeless
If you're worried about choosing a color that's trendy today but will make you cringe this time next year, go for the classic color schemes that stand the test of time. The chic pair that never goes out of style? Black and white. Plus, you can add accessories in any accent color to add a bold pop to your space. You can also consider elegant neutrals, like charcoal grey, linen and cream or earthy greens and browns. Alternatively, paint your walls in a trendy neutral and switch out your accent pieces depending on your mood. You may choose deep honey and sweet blush tones in spring and bright blues and teals in summer. Pillows, throw blankets, furniture, wall art and accessories are easy and affordable ways to switch up these accent colors.