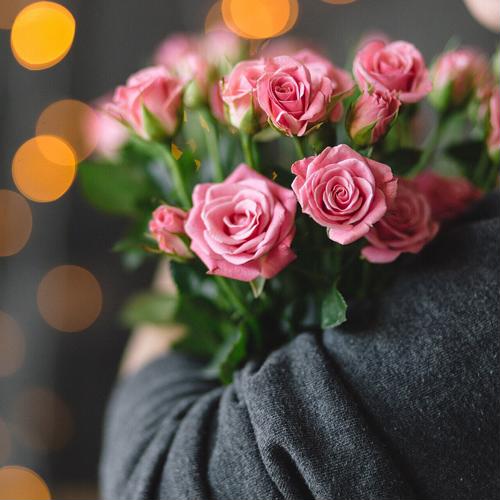 Let the countdown to the year's most romantic holiday begin! Valentine's Day is less than two weeks away, meaning it's time to start seriously thinking about how you're going to treat your special someone.
Get ready to shower him or her with love with these gift and date ideas:
Gifts for her
If you get her anything, let it be flowers. They're a Valentine's Day staple. Wake her up in the morning with breakfast in bed and a bouquet of roses, or send them to her office to brighten her day at work. Avoid oversized teddy bears and chocolate bars if she's not the mushy romantic type, and instead give her something with a personal touch. Buy her a new sweater from her favorite store, grab a bottle of her favorite body cream or get her tickets to an upcoming event she's been raving about. Whether she's emotional or stubbornly stoic, she'll gush over how much thought you put into the gift. Consider these ideas to get your creativity flowing:
Luxury spa gift card.
Incense or candle set.
Wine - splurge on the really good one!
Cashmere sweater or scarf.
Soft satin or plush cotton robe.
Romantic weekend getaway.
Gifts for him
Treating him to a gift he'll actually like on Valentine's Day gets a little more difficult. When in doubt, go for the experiences. Get him tickets to a concert, sports game, art exhibit, special movie release, wine tasting or brewery tour. As long as you keep his interests in mind, he'll be happy. While he may not swoon over bath bombs and flowers, accessories for his favorite hobbies will always go down well. You can also treat him to something he wouldn't normally buy himself, such as:
Gold cufflinks.
Luxurious shave set or beard oil.
Special edition records or movies.
Drinking glasses and decanter.
Goofy, patterned ties and socks.
Valentine's Day-themed boxers.
Art prints.
Dates for both
There are two ways to go about the Valentine's Day date: The nerve-racking but totally rewarding surprise or the pre-holiday mutual decision. You can surprise him or her with a reservation for a decadent dining experience, tickets to an event or a rose petal trail leading to the home-cooked meal you slaved over for hours. Alternatively, you can alleviate some pressure by planning the date together beforehand. Get inspired by these creative ideas from Marie Claire and personal experiences from Cosmopolitan:
Spend the night in a luxurious hotel.
Go on a ghost tour.
Hit up the salsa club.
Go rollerblading or ice skating.
Embarrass each other at karaoke.
Head to a local event, like comedy night or a poetry reading.
Have a movie night at home.
Try not to give into the pressures of the holiday and instead celebrate your love in the ways that suit you and yours. Happy Valentine's Day, love birds!