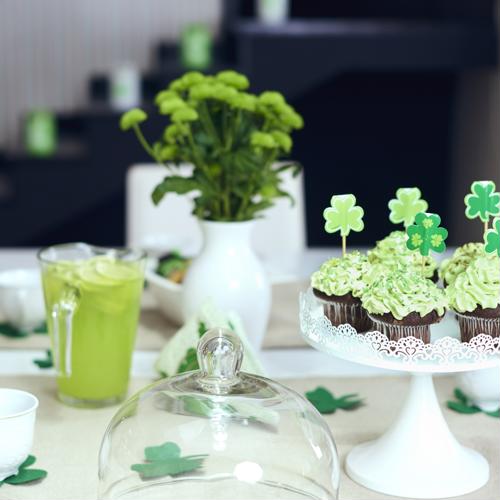 Don't let March 17 go by without a big celebration. You can celebrate St. Patrick's Day with style and class this year with these party tips:
Send paper invitations
There's something that's so much more fun about sending and receiving old-fashioned paper invitations! Mail them a few weeks before the party. Etsy is a great source for creative, handmade paper invitations.
Turn up the shimmer with your decor
Green, of course, is the de facto color of St. Patrick's Day, but you can give your party decor an elegant spin by amping it up when it comes to metallic touches. Load up on sparkling gold decorations like garlands and streamers and sprinkle shiny gold and green confetti on tabletops. Go the extra mile with shimmery upgrades to your snacks and baked goods - use gold paper cupcake liners and dust cookies with edible gold glitter.
Bring in greenery
As Brit + Co suggests, use plants to bring some real, live green color to your party space to take your decor to a classy new level. Potted clover is the most festive choice - be sure to check it over for a lucky four-leafed sprout! You could also hang ivy garlands along your mantel and set vases of bright spring flowers on tables.
Stock a bar cart
Bar carts are chic ways to serve drinks to party guests. Deck yours out with holiday decor for St. Patrick's day to make the display extra fun - green-colored string lights and gold garlands wrapped around the shelves of the cart are festive and eye-catching. Have a few St. Patrick's Day-themed cocktails on the menu, like the Emerald Rain and the Irish Flag. Green-colored liqueurs and potted fresh mint and rosemary are perfect accoutrements to have on hand for making holiday drinks.
Follow the rainbow
Create a rainbow on a wall with streamers, balloons or colored string lights. Have it lead to a pot full of party favors for guests. Some great favors include spring-scented candles, chocolates, spa essentials or gift cards to a local movie theater or coffee shop.
Have party fare fit for a feast
Stock your kitchen table with plenty of delicious party fare. Irish shepherd's pie or corned beef and cabbage are tasty traditional dinners that can be a great main course if you're having lots of people over. Anything green - or dyed green - is also a good bet, from cupcakes and muffins to mini sandwiches and vegetable skewers. Check out some great snack ideas from Forkly here. Be sure to take into account your party guests' dietary restrictions and include vegetarian, gluten-free and vegan foods on the menu if needed.
Play festive games
A few fun games makes any party a blast. One creative idea is to do a Pot of Gold Toss, where party guests can compete to toss chocolate coins into a pot located a few feet away. As Party411 explains, the winner gets all the chocolate in the pot at the end - or, to make things more interesting, you can give them $1.00 for every coin they get in. Check out the other fun party game ideas on the site.
With the tips above, you can throw an unforgettable and fun St. Patrick's Day party.