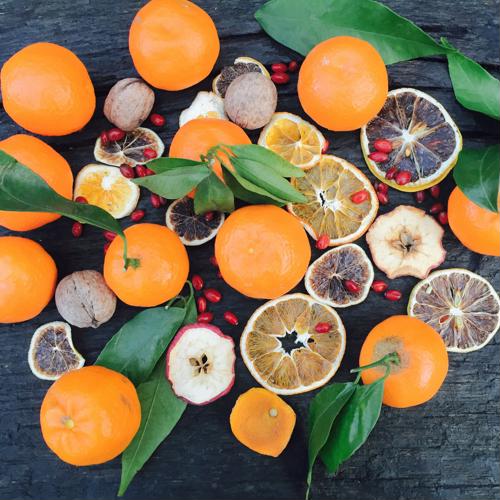 Food is the key to your heart - and healthy skin. With natural ingredients, you can feed your skin with the nutrients it needs to fight toxins and prevent breakouts. With a few healthy additions to your diet, your skin will look fresh and clear with an enviable glow.
For healthy and radiant skin, start indulging in these superfoods:
Chia seeds
Rich in omega-3 fatty acids, minerals and fibers, these little seeds are packed with power. They promote healthy skin cell function and collagen production for a firm, smooth and radiant complexion. Plus, they take your smoothies and fruit salads up a notch with nutrients as well as flavor.
Almonds
This beauty superfood is a natural antioxidant that leaves your skin feeling smooth and supple. It also provides your body with vitamin E for hydration and protection from the sun. Grab a handful of these nuts for a guilt-free snack any time.
Citrus
Oranges, tangerines, lemons and grapefruits galore! The vitamin C in these citrus fruits is key to brightening your complexion. Citrus is also a natural way to detoxify your body and rid your skin of any toxins. Start your day with one of these juicy fruits, or squeeze some lemon on your salad for lunch.
Tomatoes
Whether you like them raw or cooked, tomatoes are a great way to promote naturally clear and radiant skin. In addition to adding tomatoes to salads, sandwiches and vegetable sautees, you can even apply tomato juice or cold slices on your skin to promote a healthy glow.
Spinach
These dark, leafy greens support healthy collagen production, protect the skin from toxins and even out the complexion. The same goes for other leafy vegetables, such as kale and collard greens. Eat these natural detoxifying veggies whenever you can - in smoothies, salads and wraps or paired with your favorite fish or chicken for dinner.
Avocados
Don't worry if you're obsessed with avocado toast and guac - avocados are great for your skin. These green goddesses are high in healthy oils and vitamins that hydrate your skin, leaving you with a gorgeous glowing complexion.
Quinoa
This superfood has been around for a while, but you'll want to keep in your pantry. Quinoa helps reduce the appearance of fine lines and wrinkles, giving you smooth, youthful-looking skin.
Sweet potatoes
If you're craving carbs, sweet potatoes are the way to go. They're rich in vitamins that can reduce oiliness in your skin and prevent breakouts while also brightening your complexion. These orange potatoes also get bonus points for promoting healthy hair and nail growth.
Build your superfood skincare routine
Along with adding them to your diet, you can choose beauty products infused with nutrient-rich superfoods. The new ELEMIS superfood skincare collection is made with plant-based ingredients to nourish and revitalize your skin.
Start with the ELEMIS Superfood Facial Wash, which will deeply cleanse your skin to maintain a healthy glow. Before moisturizing each morning, massage a few drops of the ELEMIS Superfood Facial Oil over your face and neck for a highly concentrated boost of antioxidants and omegas. Follow up with the ELEMIS Superfood Day Cream to replenish, revitalize and protect your skin. Once the day is over, wash off your makeup and apply the omega-rich ELEMIS Superfood Night Cream to feed dry, depleted skin with intense nutrition.
Here's to beautiful, well-nourished skin! Add these superfoods to your beauty regimen and you'll fall in love the results.