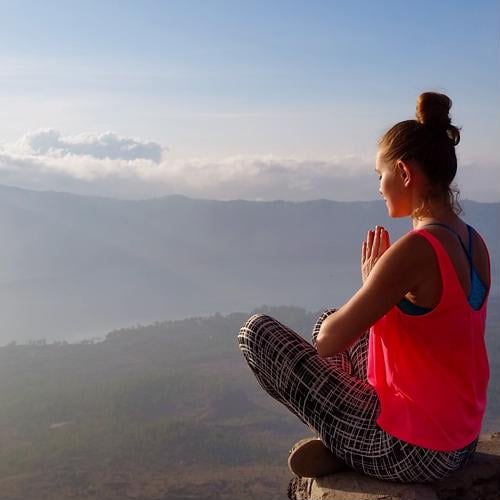 Say goodbye to the grogginess of winter blues, press pause on busy schedules and forget about work stress. It's time to hit the refresh button with a vacation for your well-being.
Add these health and wellness retreats to your travel bucket list for a rejuvenating vacation:
Stretch the stress away
Start and end the day with sun salutations and downward-facing dogs on an uplifting yoga retreat. They're typically in the middle of a gorgeous landscape, such as Thailand, Hawaii or Bali, so you'll definitely feel at peace with the breathtaking views. Yoga retreats are paradise for solo travelers looking to do some soul searching or revive their spirits, but they're also the perfect destination to meet up with friends. Check out Trip Savvy's take on the best yoga hotels and resorts of 2018 to start planning your retreat.
These glorious retreats are among the most popular trips of the "fitcation" trend to focus on wellness during your time away from home. For more inspiration, check out this month-by-month guide for the best fitness vacations to take in 2018 from Health.com.
Close your eyes and relax
If working out on vacation isn't your jam, treat yourself to the ultimate relaxation of a spa retreat instead. You can choose from massages, facials, manis and pedis - or ideally indulge in all of the above. Coupled with sleeping as late as you wish, lounging by the pool and soaking in hot baths, an extended trip to the spa is exactly the break you need. Head to a destination spa to immerse yourself in R&R while also satisfying your travel bug with gorgeous views from a place you've never seen before. Check out Travel + Leisure's list of the top international destination spas to start dreaming about for your vacation. And while you're already abroad, why not extend your trip to do some traditional traveling before or after your spa retreat? If you don't have that much time, you can escape to one of these top destination spas in the States.
Walk it out
Sometimes all you need is some fresh air to lift your spirits. If it's time to become one with nature, plan a walking or hiking trip to immerse yourself in gorgeous scenery and witness some of the most breathtaking sunrises and sunsets. The easiest way to start planning a hiking trip is to choose a National Park, such as Yellowstone, Yosemite, Redwood Grand Canyon and Mount Rainier. According to National Geographic, these hiking trails will also blow your mind with their natural beauty. Not only will you explore a fascinating destination, you'll also get your heart pumping along the way.
Go back in time
According to Booking.com, 34 percent of travelers will consider revisiting a destination they experienced as a child at some point this year. The reason? These trips evoke feelings of nostalgia and happiness, giving travelers a chance to relive fond memories as well as form new ones. It could be somewhere you've only visited once before or the place where your family spent every summer when you were younger. Either way, you'll feel refreshed from the feeling of revisiting a cherished destination. Take friends or family with you and introduce them to the place that brings you so much joy.
After a week or two focusing on your health and wellness, you'll be ready for anything that reality throws your way when you get home. Here's to the rejuvenating vacation we all need!