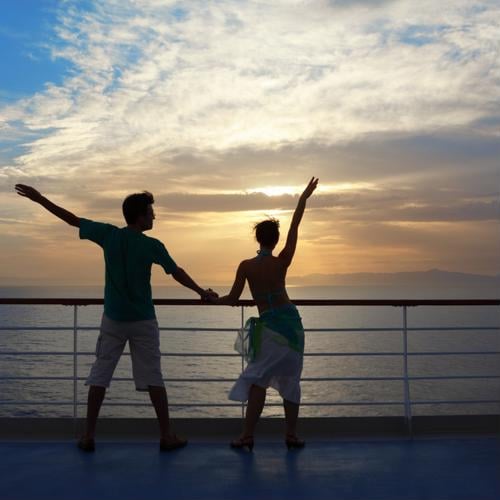 Congratulations on the wedding! Now it's time to leave your footprints in the sand of a stunning tropical getaway.
Consider one of these perfect honeymoon cruise destinations to celebrate you and yours:
Bali, Indonesia
Known as the Island of Gods, Bali certainly won't disappoint in the breathtaking views department. It's also known for its rich spiritual culture, art and sense of adventure, with ancient temples, palaces, wild jungles, surfing and marine life to explore. Along with traditional white sand beaches, Bali is also home to black sand beaches on the north and west coasts of the island. Pro tip from Travel + Leisure: Avoid going between October and March because your beach days may be ruined by the heavy downpours of rainy season.
Greek Islands
Sip on a glass of wine as you sit surrounded by the blue-trimmed whitewashed buildings, staring across the stunning Aegean Sea next to the one you love. Visit the historical Acropolis in Athens and lounge along the shorelines of the breathtaking Greek Isles. With a Greek Island honeymoon cruise, you can hop around to see the area's most impressive landmarks and gorgeous beaches, getting a taste of the distinctive culture each island offers. If you want to see more, choose a Mediterranean cruise that often stops in ports along the Italian, French, British and Spanish coasts in addition to the Greek Islands. Plus, you can extend your trip and arrive early to explore Europe before embarking on the cruise, or relax in the final port destination for a few days before flying home.
Maui, Hawaii
Watch the sunrise at the top of the dormant Haleakala volcano, explore the colorful underwater coral reefs, indulge in Hawaiian cuisine and spend the night sipping on Mai Tais at a luau. As one of the world's most beautiful tropical getaways, it goes without saying that you'll enjoy your time on the white sand beaches. With an endless mix of natural beauty, sightseeing and outdoor activities, check out this Maui travel guide from Lonely Planet before you go and consider the options the cruise line offers to narrow down your must-see destinations.
Nassau, Bahamas
If you and yours want the classic tropical getaway, head to the Bahamas. They say life's better there, and your honeymoon is the perfect time to experience everything the islands have to offer. Nassau is among the most popular cruise destinations, home to the famed water park, marine habitat, spa and casino of Atlantis Resort and Paradise Island. The good news is you can take advantage of Atlantis entertainment even if you aren't staying there. Outside of the resort, Nassau offers incredible shopping, decadent dining, classic white sand Bahamas beaches and vibrant Junkanoo celebrations of colorful costumes, dancing and traditional fare.
Venice, Italy
Nicknamed The Floating City and City of Canals, Venice is comprised of several islands connected by winding waterways and bridges. Take a romantic gondola ride along the canals, explore iconic sights like St. Mark's Basilica and Doge's Palace, sip on decadent Italian wine and indulge in traditional Venetian fare. Don't get overwhelmed by the endless winding streets and alleyways of Venice. Instead, give yourself time to get lost. That's how you'll really experience the beauty of this unique city. Check out this guide to the Venice cruise port from U.S. News & World Report to start imagining your Venetian honeymoon.
These destinations were made for lovers. Whichever one you choose, happy honeymoon!