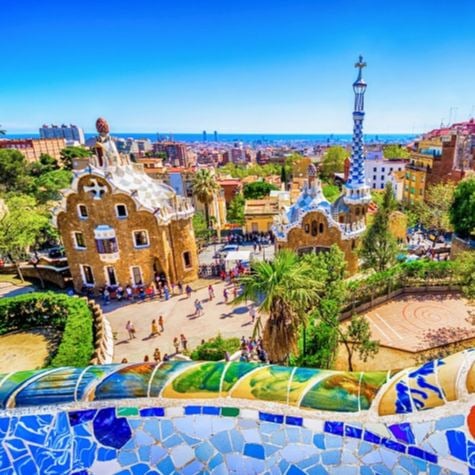 Have you been hit with the travel bug again? Add Barcelona to your list of places to visit this year.
Barcelona ranks high on several U.S. News & World Report lists, including the best place to visit in Spain, top five summer vacations and one of the top 10 cities to visit in both Europe and across the globe. It offers everything for residents and tourists alike, from breathtaking architecture to stunning beaches and sleepy cafes to eclectic nightlife.
Sangria, tapas, fiesta, siesta, repeat! Here's a quick guide to the sights and flavors you'll want to experience in Barcelona:
Creative Barcelona spirit
Barcelona's bustling art scene features Museo Picasso, which is one of the most extensive collections of Pablo Picasso's work in the world. Modern art lovers will also want to explore the Barcelona Museum of Contemporary Art, as well as the museum dedicated to Spanish artist Joan Miro.
The Catalan capital is home to the famed architectural works designed by Antoni Gaudi. You can't miss La Sagrada Familia, which is a church that has been incomplete for over 100 years. Even so, the impressive building is a UNESCO World Heritage Site and one of Barcelona's most popular tourist destinations. Admire the gothic details and nativity scenes on the exterior, then walk into a colorful, glowing space as the sun reflects the stained glass inside the church. It's worth exploring the outskirts of the city to see Park Guell, a public space where Gaudi covered almost every surface in intricate, colorful mosaics. Check out this guide to Gaudi architecture in Barcelona from Culture Trip, but keep in mind that pictures and videos won't do these gorgeous sites justice!
Under the Mediterranean sun
The beaches are calling! July and August are the hottest months in Barcelona, so you'll have the best beach days if you visit during the summer months. Pro tip from Travel + Leisure: While Barceloneta Beach is popular among tourists, Bogatell is a local favorite.
Don't forget to pack your walking shoes because there are plenty of charming streets and squares to wander around in the city. Las Ramblas is a central hub for dining, shopping and street performers. Make sure to stop by La Boqueria, too, which is one of the best markets in the world.
When the sun goes down, party people unite: The bars are open well into the early hours of the morning in Barcelona. The afternoon siesta is still an honored tradition, so don't expect to dine at six in evening. Most Spaniards will eat a few hours later than that, and the bars will begin to fill around midnight. There's always live music so get ready to move your hips. If the party scene isn't for you - don't worry. The sangria won't run out as you while away a quiet evening on the beach or at a local restaurant.
Catalan cooking
Food is at the center of Barcelona's culture, and the city serves up some of the best dishes in Spain. Leave the diet at home because you'll be dining on endless tapas and paellas - paired with a pitcher of Sangria of course. You'll find a lot of dishes are made with seafood, cured ham and fresh produce. If you enjoy the flavors of Barcelona, consider taking a food tour or cooking class to get closer to the cuisine. Ask locals for dining recommendations once you're there, but you can refer to Time Out's list of the best restaurants in Barcelona in the meantime.
As soon as you set foot in this glorious city, you'll begin to understand why it's a favorite Spanish destination.