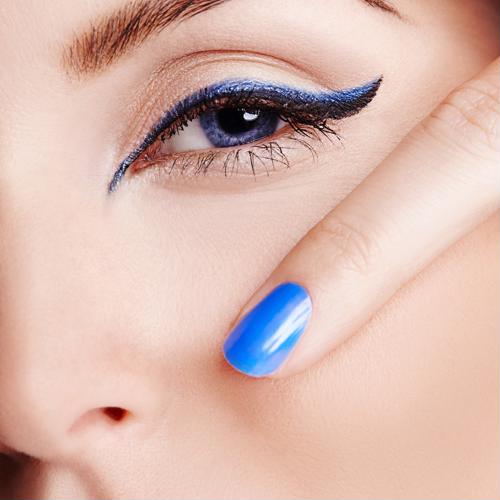 Cue the flowers, sunny skies and warm breezes - it's almost springtime! With a new season comes a slew of new styles to revamp your closet and beauty routine.
Get ready for the warmer weather with these spring fashion and beauty trends:
The 90s are back
If you haven't let go of your 90s wardrobe, you're in luck. Making several appearances on the runways, these trends are coming back strong. For your hair, stretch combs, thick headbands and claw clips are the move. Layer your spaghetti straps over white tees for a killer throwback look, while also creating a cool, casual finish. Brown lipstick is also back, especially in a matte finish.
Of course, classic 90s looks will get a modern refresh this year. According to Glamour, the Spring 2018 runway trends are a blend of 90s and Kardashian influence. The best example of this is the new bodycon bicycle short trend, which pairs the pants with statement blazers, easy button-downs and strappy heels.
The bolder the better
Bright colors, chic bling and art-pop patterns are taking over this spring. That means it's time to add some color to your closet. Don't be afraid of statement neon colors this season. However, if that's too much for you, go for the pastel shades that also rocked the runways. And guys: Ditch the traditional suits. The runways were filled with suits of every shade and pattern you can imagine. If you're really daring, jumpsuits are also trending for men this season.
Both the women's and men's spring fashion shows featured sequins as the key to extra sparkle, as well as bold materials like satin and velvet. Even better: You don't have to save these looks for a night on the town. It's totally acceptable to add some sparkle to your daytime outfits, especially when paired with light denim or casual sneakers.
New and improved eyeliner
There are plenty of new winged eyeliner trends to try this season. Use eye gloss to add a layer of glitter eye shadow over a cat-eye with a rounded wing. The fashion gurus on the runways also experimented with cat-eyes along the bottom waterline, split eyeliner and thick lines. As far as color, try not to limit yourself to black this spring. Much like your wardrobe, you can have fun with color, too. For inspiration, check out this collection of photos from Harper's Bazaar featuring the best makeup looks from the runways.
Fresh cut and color
Is it time to refresh your hairstyle? There are plenty of new trends to inspire your fresh look. For both curly and straight styles, finish off your cut with bangs. Long fringes are in, which means you can easily flip them over to the side or sweep them back if you get annoyed with them. If you're ready to get rid of some inches, there's good news: Jaw-length bobs and short shaggy layers are in! Hair accessories are also going to be big trend this year, so tie your hair back with a velvet ribbon or throw in the 90s throwback headbands and clips.
For men, GQ rated buzz cuts and bobs as some of the best new haircuts for this year. Plus, you may be inclined to experiment with a new color - much like many celebrities who have been dying their buzz cuts with bold hues, such as neon red and blue. Plus, natural hair is on trend for both men and women. Embrace the curls and if you can grow an Afro, do it!
Say hello to spring with these awesome new trends. You're going to look fab!