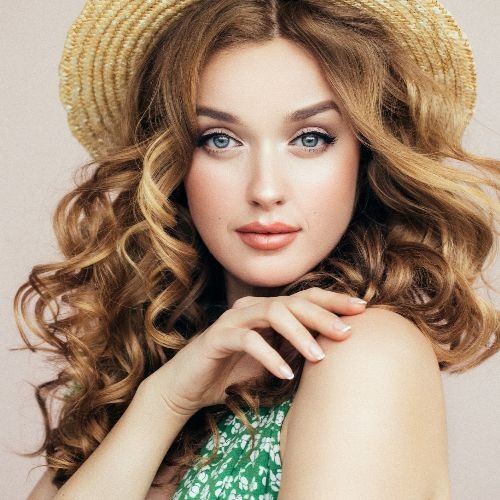 The secret to easing this rift between hat and hair is synergy. The two sides must come together in harmony, and luckily you don't need to become a master yogi to do this - you just need a few hat-friendly hairstyles.
"Hat hair" has always had a negative connotation, but maybe it's time for that to change. These three hairstyles will give a positive new spin to the term. Try them the next time you venture out into the cold to stay warm without sacrificing style.
Boho Wrap Braid
Rocking this pretty, creative style from ModCloth totally beats topping your grungy bedhead hair with a hat half out of necessity, half out of shame. To get the look, part hair in the middle and divide into two sections. French braid each section from the crown of your head to the end of your hair, and secure the sections with clear elastics. Keeping the braid close to your head, bring the left braid to the right side of your head and tuck underneath the right-side braid by your ear. Repeat with the other braid on the left side. Top with your favorite fur hat or ear warmer and brave the cold with confidence.
Soft curls
There's something so cute about softly curled hair with a beanie, and the effect is perfectly pretty and totally face-framing. Take inspiration from blogger @kattanita and pair your knit hat with gentle waves. Spray Sebastian Trilliant - Heat Protectant on blow-dried hair and then wrap 2-inch sections around a wide-barreled curling iron. For effortless body and bounce, don't clip the ends into the curling iron and instead focus the curl mid-shaft and alternate the direction that you curl in. Finish by warming up 1-2 pumps of KÉRASTASE Elixir Ultime Oléo-Complexe in palms, and gently running through mid-lengths and ends. This multi-purpose oil helps restore the hair fiber and reduce split ends, leaving it with a nourished and soft touch, combined with a dazzling shine.
Wrapped pony
It's so cold, even your ponytail needs to wrap up. A low pony might sound basic, but this style gives it a chic upgrade. Gather hair low at the nape of the neck in the center or loosely off to one side. Separate a 1-inch section of hair, and then secure the remaining hair with a clear elastic. Wrap the sectioned-off piece around the elastic to hide it, and then secure in place with one or two bobby pins. The casual but sophisticated style is perfect with a floppy or cozy oversized hat.