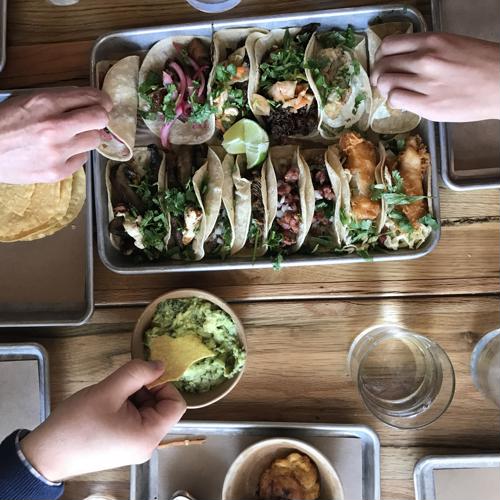 Tacos, tortilla chips, nachos, enchiladas and lots of carbs galore! Cinco de Mayo is the day to celebrate Mexican culture, which includes the country's tasty traditional dishes. Unfortunately, tasty doesn't always mean healthy.
Celebrate the holiday with these festive foods that won't break your diet:
Go for the bowl
When in doubt, ditch the carb-heavy exteriors of your favorite Mexican dishes and go for the healthier alternatives: Taco, burrito and salad bowls. Rice lovers should use brown instead of white for a healthier alternative. However, if you can live without it, use quinoa or barley as a even better base for your diet. Mix in spinach and lettuce for some healthy veggies, or you can even commit to using purely salad greens for your base. Swap the sour cream for Greek yogurt to save more calories. To really lighten up your bowl, avoid topping it with heaps of cheese. Even better, ditch the cheese all together.
When seasoning vegetables or meat for your bowl, avoid packaged spices that can be high in sodium. Instead, try this homemade taco seasoning recipe from Allrecipes magazine for that classic Mexican flavor. Here's a delicious burrito bowl recipe from Delish that packs in all the flavor without cramming in any unnecessary calories.
If you're not too happy about giving up taco shells and tortillas, don't worry! There are healthy alternatives, like these keto taco cups, zucchini taco shells or cauliflower quesadillas from Delish.
Veggies and dip
Avoid overloading on tortilla chips, and instead chop up a bunch of fresh vegetables as an alternative. Try these fresh squash chips from MyRecipes, which are soaked in cold water and chilled in the fridge to mimic the crispiness of traditional chips. They pair well with this fiesta dip, which calls for classic Mexican ingredients such as refried beans, tomatoes, cheese and cilantro. LIVESTRONG.COM suggested other healthy ways to enjoy salsa, including baked tortilla chips or green pepper and celery dippers, as well as using salsa as a condiment or healthy recipe ingredient. Plus, you won't miss the tortilla chips in these bell pepper nachos from Delish.
Cheers to healthy
Add a healthy twist to the traditional margarita with low-calorie options. This margarita from Myrecipes has far fewer calories than the traditional cocktail. It's sweetened naturally with pomegranate juice, which also has powerful antioxidants for a simultaneous immune system boost. The food and nutrition experts at EatingWell magazine also served up plenty of healthy margarita recipes to try. With this one, you can make endless flavor combinations while saving roughly 150 calories and 40 grams of sugar.