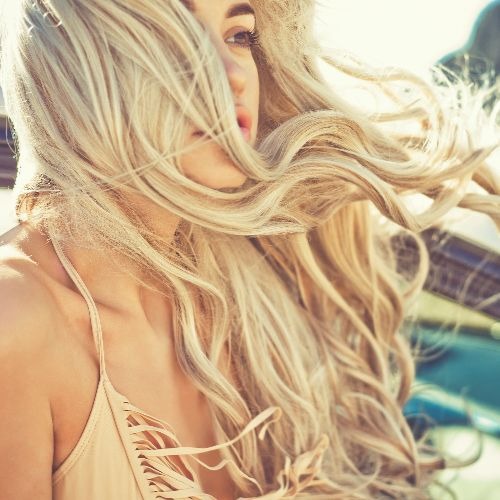 When you envision a head of perfectly curled hair, what kind of waves do you see? You might imagine loose waves a-la runway models or perhaps tight spiral curls for a night out? Whether you're after perfect, polished curls or a messy natural look, we can teach you how to achieve it.
The next time you want to add some body and volume to your hairstyle, consider trying out one of these three curly looks.
The basics
There are a handful of methods for curling your hair, each with certain perks depending on what you're going for. We're going to focus on curling irons and wands, but you could also experiment with hot curlers or foam curlers that stay in overnight.
Within the curling wand and iron category, there's still a variety of styles to choose from. The difference between the two is that curling irons have a clip at the bottom that holds your hair as you wrap it around. Curling wands let you curl closer to your head, but you have to get the technique down to avoid burning your fingers. Both curling wands and irons come in different shapes and with different diameters for specific types of curls. Cone-shaped wands let you create dynamic, varied curls while straight wands are great for perfect, uniform waves. Some even have interchangeable ends so you only need one gadget.
Classic
Soft waves will never go out of style. Whether you opt for a deep side part for a classic Hollywood style or voluptuous waves like the VS Angels, it's a look that works for everyone.
The secret for old Hollywood curls is clipping them in place to let them set. After you curl each section, roll it back up with your fingers and pin it to your head. Before you leave the house, let your curls down and brush them out with a bristle-boar brush.
Big, loose waves that you see on the runway might require some product to build. Try KÉRASTASE Volumifique Spray Volume - just apply some to your hair before breaking out the curling wand. Start by blow drying your hair with a wide, round brush to get the waves started. With a curler that has a 2-inch diameter, curl your hair away from your head. After spraying them with a holding product, comb the waves out with your fingers.
Beachy
This carefree, casual hairstyle is popular all over the world - not just on sunny beaches and jetskis. That being said, it's truly the perfect summer look.
If your hair doesn't naturally hold a curl and you're styling your hair after a shower, consider skipping conditioner in anticipation of beachy tresses. Towel dry your hair then rub a dab of Sebastian Texturizer Gel through it to enhance the waves. Alternate between finger combing and scrunching sections as you blow dry your hair. When it's dry, curl random pieces of hair with a curling wand or iron. Wrap the hair in different directions to add more chaos to your waves. You can even use different-sized barrels for even more dimension.
Spiral
For tighter curls, you'll need to use a wand or iron with a narrow barrel. One that's less than 1 inch in diameter is best, but you can go a little bigger if you have long hair. This is ideal for women with naturally curly hair, but it's possible with straight hair if you have time.
If your hair dries curly, especially with the right products, it shouldn't take long to get this look down. Apply Sebastian Volupt Spray Gel to damp hair and scrunch it up to form curls. Blow dry your hair as you squeeze different sections while the curling wand heats up. When the wand is ready, start wrapping pieces of your hair around it toward the back of your head. Since your hair is already wavy, you won't need to repeat this across your whole head - just perfect ringlets in the front and scattered throughout. Women with straight hair will probably need to curl each section of their hair to build enough volume.