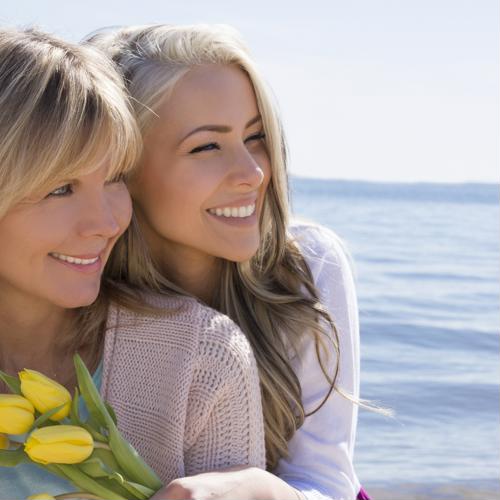 She's the woman who has done and will do literally anything for you, and she deserves more than a bouquet of flowers for Mother's Day. Definitely get her the flowers - but go the extra mile to show her how much you appreciate everything she does.
Celebrate your fabulous mom with these Mother's Day gift ideas:
Score the tickets
Take Mom to see a musical, play, concert or museum exhibit. It's a great excuse to dress up in your fancy clothes, grab a nice dinner beforehand and spend quality time together. Plus, she'll be chuffed that you thought about the kind of entertainment she enjoys. Even better if the show is a band, artist or performance that she introduced you to, or that you've enjoyed together in the past.
Book an experience
At the end of the day, most moms just want to spend time with their little ones - even if they're not so tiny anymore. Mom will appreciate simply being with you, but you can make your time together a little extra special in honor of Mother's Day. Go to a wine tasting together, or get your creative juices flowing at a crafts class, salsa night or paint-your-own pottery studio. Choose adventure with a hot air balloon ride or book a luxurious afternoon at the spa. Make it a truly unforgettable Mother's Day with a weekend getaway to her favorite kind of destination, whether it's a beach, mountain or urban escape.
Capture her picture-perfect family
There's nothing your mom, grandma or great grandma loves more than her family. Print out family pictures and place them in designer frames that match her aesthetic. Alternatively, get her a digital frame so she can upload several of her favorite photos and see them all every day. Another option is to book a family photo shoot. It's the perfect reason to get everyone together, and she'll end up with gorgeous photos to display around her home.
Listen to her carefully
This part is on you! In the weeks leading up to Mother's Day, listen a little closer when you're talking to her. She may drop a hint about a pair of earrings she fell in love with but didn't buy, an upcoming event she's interested in or a worn-out item she needs to replace. Some moms are more obvious, with comments like "I would love this ... don't forget that Mother's Day is coming up!" Regardless of how your mom hints at what she wants, try to pick up on her clues. She's guaranteed to like the gift - and she'll be even happier that you listened.