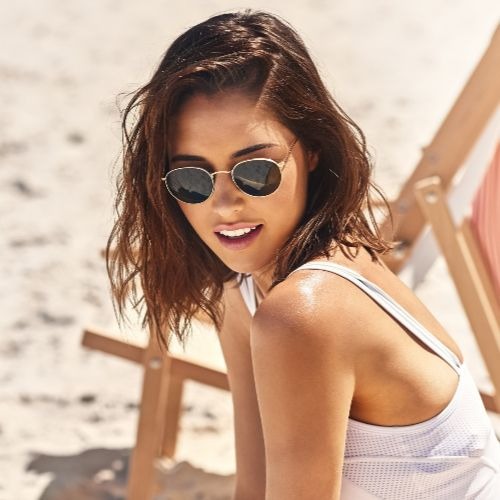 You can make a salon appointment in the spring to spruce up your hair color, only to spend a few days in the summer sun and find that it's fading, fast. UV rays can do a real number on hair color, even if it's your natural shade. Thankfully, there are some easy ways you can help protect your hair from the damaging effects of the sun:
Put down the hair-dryer
The fraying, frizzing and burning that can come with blow-drying, curling and flat-ironing hair can rough up the hair shaft and make your strands more vulnerable to sun damage. Your best bet is to limit the amount of hot styling tools you use during the summer - it's too scorching out to stand in a hot bathroom, anyway! But if you must give yourself a blow out or bouncy curls, use the Sebastian Trilliant - Heat Protectant beforehand. It protects hair from heat damage while also re-building hair both internally and externally for gorgeous styles all summer long.
Pair a sun hat with protein and amino-acids
A large floppy hat can help shield your hair from those UV rays, so buy a few this season to keep in your car, suitcase and at the office. If you're going to spend the day lounging, bulk up your protection by applying a rich serum like the KÉRASTASE Resistance Sérum Thérapiste to hair before donning your hat. This innovative formula combines a repairing cream and a binding serum for thermo-protection reaching up to 230°C. This powerful double-action serum has 6 amino-acids and a wheat protein to reinforce and smooth hair fibers.
Embrace botanical leave-in creams
Ultra-rich leave-in conditioners made with botanical extracts can seal in moisture and help rejuvenate hair after a long day in the sun. Try the Phyto 7 Daily Hydrating Botanical Cream to protect and nourish fine hair, or the Phyto 9 Daily Ultra Nourishing Botanical Cream to intensely hydrate medium- to coarse-textured hair. .
Treat your hair with some TLC this summer to keep color beautifully radiant.