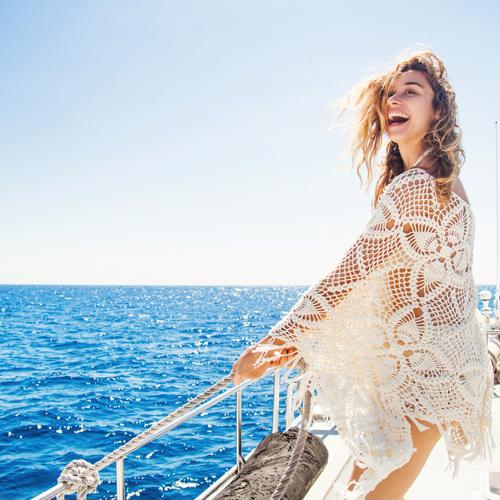 What if instead of going to work on Friday, you boarded a cruise ship? On Saturday morning, you would wake up to a Caribbean paradise. You'd be back in town on Monday, with a fresh tan and rejuvenated spirit.
Sound like a good weekend? Here's what you need to know about taking a short Caribbean cruise:
The benefits
While a weekend may not seem like enough time to enjoy all of the luxuries cruise travel has to offer, there are actually several perks to these quick jaunts to paradise. And, of course, once you're under the glorious Caribbean sun, you won't feel any regrets.
If you or your travel buddy have never been on a cruise, weekend getaways are the perfect introduction to these seafaring vacations. These three-night cruises also put a cap on the time you have to take off from work, while still giving you the break you need. Plus, these short but super sweet cruises are perfect for romantic getaways, family reunions and girls' trips. Similarly, celebrate birthdays, graduations, engagements, promotions and other life events with a luxurious trip to paradise.
The destinations
The stunning white sands and turquoise waters of the Bahamas are close to most ports, making them a popular weekend cruise destination. However, many cruise lines offer three-day packages to other Caribbean destinations, such as Cozumel, the Grand Cayman Islands, Jamaica, Barbados, Saint Martin and Puerto Rico.
The activities
As soon as you step on board, the hardest decisions you'll have to make are when you want to eat and which bathing suit you should wear first. The cruise line will provide the entertainment and details for your itinerary. You can take advantage of the cruise activities, or simply work on your tan on the beach once the ship reaches its Caribbean destination. When the sun goes down there will be plenty of nightlife on the ship to keep you busy, including casinos, performances, bars and restaurants.
The deals
Weekend cruises offer a bonus for your wallet: They are often more affordable and it's more common to find last-minute deals. That means you can make an impulse decision that doesn't break the bank. With meals, entertainment and lodging included, it may even work out to be the same amount of money you would spend on a normal weekend of shopping, dining and drinking at home. Follow these tips from Cruise Critic for finding the best deals and you'll be on your way to booking your next getaway with incredible savings.
Here's to a fabulous weekend at sea!