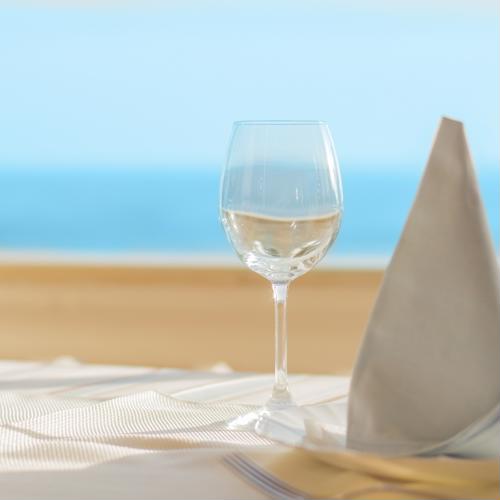 With food included with your booking, cruises can seem like bottomless pits of eating options. Don't worry about going overboard - follow these tips to eat like royalty on your next cruise:
1. Use the buffet wisely
While the food is usually much tastier in the main dining room, the buffet has its perks, too. It's ideal for a quick, relaxed meal, especially if you don't have time to sit in the dining room for two or three hours. Plus, they serve an endless variety of food, which means everyone in your party can find something they enjoy eating. This is especially helpful if you're traveling as a family with little picky eaters.
2. Be an adventurous eater
Take advantage of the opportunity to try something new. You already paid for your dining room meals just by booking the cruise, so you won't have to worry about wasting money on a risky menu item. Give it a shot, and if you don't like it, you can order something else or hit up the buffet later.
3. Indulge - within reason
There's no better time to break the diet than while on vacation, but there are ways to be mindful of healthy eating while still satisfying your taste buds. Simply ask for smaller portions, skip heavy sauces and dressings and try to limit the desserts. Avoid letting your eyes grow bigger than your stomach, and pace yourself at the buffet. Remember that you can always go back for more, but if it's already on your plate, you're bound to eat it even if you're full. Of course, it's OK to treat yourself, but aim to do so within reason. You'll feel much better when you get home!
4. Try one of the restaurants
It may seem silly to spend money on food when so much of it is included with your ticket, but cruise ship specialty restaurants are usually well worth the splurge. With superior cuisine and service, they can be a wonderful dining experience. Plus, indulging in dinner at a specialty restaurant is perfect if you're cruising to celebrate a special occasion.
5. Skip the room service
Of course, room service is the epitome of vacationing like royalty, but it's not as decadent on a cruise ship as it is in a 5-star hotel. The menus are usually limited and they don't offer anything different than you could get in the cafeteria. Plus, you need cash to tip the staff. If you're still curious, order room service at the beginning of your trip to gauge if it will be worth it during the rest of the cruise.
6. Reserve your dining room table
Make your dining plans before your cruise. That includes choosing your preferred dining time or requesting to sit at the same table as the people you're traveling with. If you aren't traveling in a group and end up disliking your tablemates, you can always ask to sit elsewhere the following night. Most tables sit four to eight people, but you can also request a table for two if you're headed on a romantic trip.