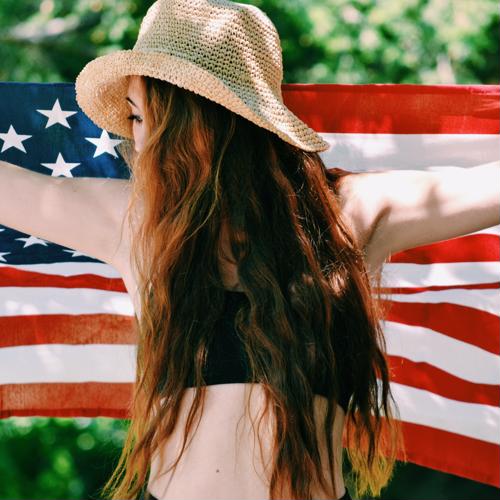 The more red, white and blue, the better! It's time to celebrate the nation's birthday with her tried-and-true colors. Master your spirited Fourth of July look with these patriotic hair, makeup and nail ideas:
Touch of star-spangled banner
Use some star-shaped stickers or confetti and place them in your hair for a shiny, star-studded look. These little details look especially great when your hair is braided or up in a messy bun. Add a side of stars to your makeup too, placing the stickers along your temple next to your eye where you would normally highlight. A line of tiny star stickers are also fabulous under the brow, and you can pop one in the center of your water line for a complete look.
Simple pop of color
If you're looking for a more understated Fourth of July look, you can keep everything simple aside from one or two pops of color. Consider wearing your favorite light-wash jeans paired with a classic white tee. That gives you a blank canvas to accessorize with red or blue, whether it be a belt, purse, bracelets, sneaks or sandals. Alternatively, pop with a red bandana tied around your neck or a splash of bold lip color. If you prefer eyeshadow, go for a sultry wash of red on the lids and keep the lips neutral with a simple gloss.
Patriotic nail art
Fourth of July is a celebration that calls for more than just a classic red nail. Add a few stars, stripes and sparkles for fun and festive polish. You can also use a small detail brush to add simple rows of small dots to your nail beds, mimicking the look of stars and fireworks. If you're looking for a chic look, try a reverse French tip, color block or one of these easy nail art designs you can totally do yourself from Good Housekeeping.
Here's to a good-looking Fourth of July!