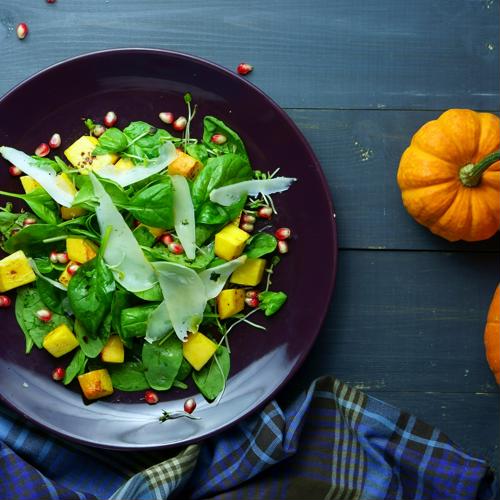 Craving the coziness of fall? Along with blankets and scarves, the change in season brings us a fresh set of ingredients and flavors to indulge our taste buds.
It's never too soon to start preparing for warm seasonal meals. Here are some fall food ideas to get you in an autumnal spirit:
Cozy fall dinners
Fancy a warm, filling and flavorful dish? Fill your dinner plate with hearty pasta dishes, pot pies and casseroles. Now's also the time to start breaking out the heavier sauces and harvest flavors that complement the season. Try these fall dinner recipes from Delish, which include some mouthwatering yet totally easy weeknight meals like harvest chicken casserole, maple rosemary pork tenderloin, black bean soup, turkey chili and meatball subs.
Fall for salads
The cooler temperatures leave us craving warm casseroles and steaming soups, but there's still plenty of fresh fall produce to use in delicious and healthy salads. Add butternut squash, sweet potatoes, pumpkin seeds, radish, pecans, beets, apples and pears to your greens for a delicious seasonal twist. If you need inspiration, try these crisp and crunchy fall salad recipes from Food & Wine.
Pumpkin spice everything
As the unofficial flavor of fall, the taste of pumpkin spice is an automatic reminder of the season. You may run for the iconic latte when you're on the go, but when you're home, you can use pumpkin spice in your cooking. Try these recipes from Greatist, which include a spiced pumpkin parfait and pancakes for those crisp fall mornings and pumpkin spice baked apples for a sweet treat. Genius Kitchen also has some delectable pumpkin spice recipes for you to try.
Now it's starting to feel - and taste - a lot like fall!