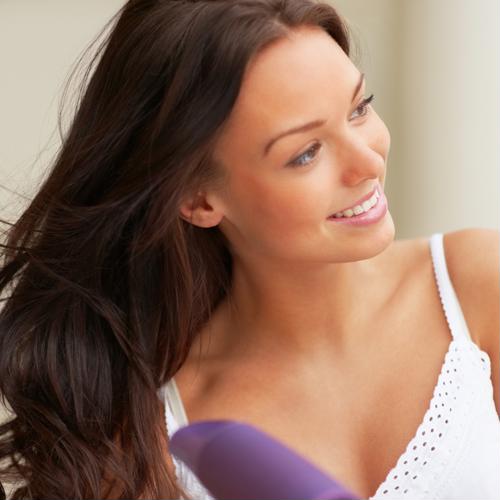 There's something incredibly empowering about a fresh blowout. Soft, bouncy and smooth, your luscious locks are ready to take on the world.
With a little practice, you can refine your own method and finally make that salon-worthy blowout possible in the comfort of your own home. Forget the salon appointment and keep these tips in mind to master the at-home blowout:
Start with the rough all-over dry
Don't separate your strands immediately. Instead, give your hair a quick all-over dry. If you don't have bangs, flip you head over and focus on your roots for a minute, massaging through them with your hands as you blast them with warm air.
Use the tools you love
If your hair dryer sits awkwardly in your hand, your blowout will be doomed. You don't necessarily have to invest in the most expensive dryer out there, but choose one that feels comfortable to grip and that also has the right attachments and settings for your hair. The right round brush is also key for achieving a salon-quality blowout. According to The Everygirl, hair length dictates the size of the brush. Women with short hair should use a 1.5 to 2 inch brush, medium lengths can go up to 3 inches and longer strands need a round brush that's 3 to 5 inches in size.
Make your hair happy
The blowout that looks fantastic on your best friend may not always look so hot on your strands. Think about your cut and hair texture to achieve the perfect blowout for your own locks. Thick, coarse hair, for instance, requires faster movements so the hair dries before getting frizzy. Alli Webb, cofounder of Drybar blowout, told Allure that straight, sleek blowouts are ideal if your hair is all one length, while layers call for more bounce and movement.
Once your hair's dry, give it a quick tousle and head out the door looking like you just stepped out of the salon.