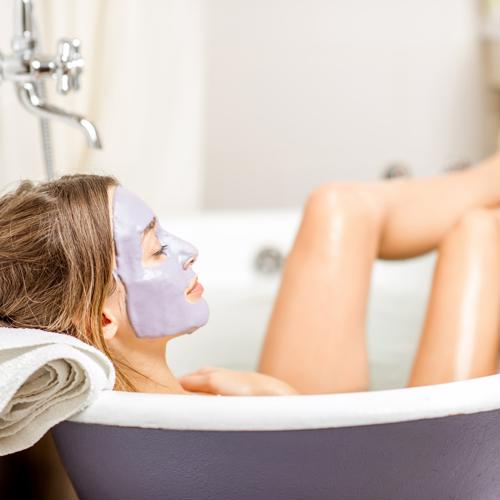 You're cordially invited to attend the big event - and, naturally, you're already thinking about your party look. Before you can get glammed up, though, you'll want to have a solid foundation for makeup that lasts all night.
Follow these steps for party-ready skin:
1. Scrub it all away
The first step to radiant skin is exfoliation. This scrubbing sensation removes dry, damaged or dead cells, restoring the surface of your skin with a luxuriously smooth complexion. Use your favorite ELEMIS exfoliator with gentle ingredients that reveal silky soft, deeply conditioned skin. However, be careful not to over-exfoliate before the big day, as this can cause redness or irritation.
2. Nourish the skin
While refreshed, your skin will be vulnerable after exfoliation. Use nutrient-rich ELEMIS serums and boosters to further the exfoliant efforts and reveal a healthy, youthful complexion. A day or two before the big event, get your mask on to restore your complexion to party-ready radiance. Choose the ELEMIS face mask that's best formulated for your skin's needs.
3. Don't forget to moisturize
Your skin always needs proper hydration - even when you're not in party-prep mode. Make sure you're using your favorite ELEMIS moisturizer on a daily basis, applying a healthy amount after cleansing your skin. If your skin isn't looking or feeling its best on the days before the party, boost your skincare routine with an ELEMIS night cream to nourish and revitalize your complexion.
4. Be mindful of your eating habits
It's a good idea to avoid the indulgences that can lead to last-minute blemishes, such as unhealthy late night snacks or too much chocolate. Plus, there's nothing like puffy under-eyes to make everyone think you're tired before the party even begins. In the days leading up the event, try to stay away from salty foods that can cause unwanted puffiness in the skin. If you couldn't resist - or you are in fact tired before the party starts - try the ELEMIS Pro-Radiance Illuminating Eye Balm to instantly brighten and refresh tired eyes.
5. Prime your canvas
Now that your skin is fresh and clean, you'll want to apply a layer of face primer. It will create a luxuriously smooth surface for your foundation - and keep your makeup looking picture-perfect all night long. Double down on the benefits by choosing a primer that also pinpoints your problem areas, such as shine prevention or color correction. You can also use an eyeshadow or lip primer to make sure your entire look stays in place no matter how hard you hit the dance floor.
All that's left to do is apply your makeup, slip into your dress and let your hair down for a night of glamorous celebration.