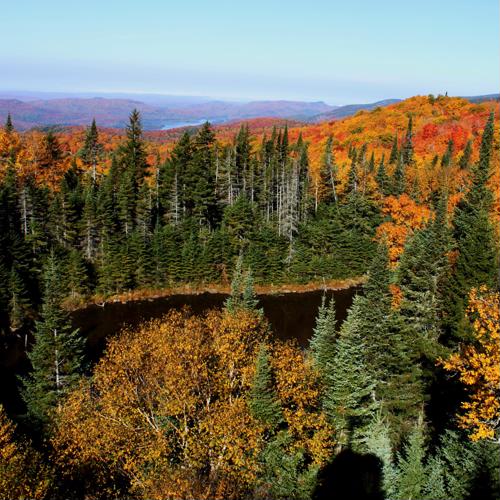 The leaves, they are a changin' - and it can only mean one thing: Fall is in the air.
At its peak, fall foliage boasts bright hues of red, yellow, orange and even shimmers of gold. If you want to get up close and personal with the changing leaves, you'll have to plan to be in the right place at the perfect time. Check out this interactive fall foliage map from SmokyMountains.com for predictions on the best times and places to see the autumn hues this year.
Where will you stay when you get there? Escape to one of these glorious hotels surrounded by the most vivid fall foliage views:
This classic New England city offers plenty of entertainment to accompany the colorful trees you'll see out your room window and during your daily adventures. Travel + Leisure recommended The Godfrey Hotel for its central location in the heart of downtown Boston, along with the guided running tours, rental bikes and fall foliage cruises the hotel offers to help guests get close to the changing leaves.
TripAdvisor named this 1902 hotel one of the best in New England for fall foliage views - and with good reason. It sits at the bottom of a mountain, facing hillsides filled with sugar maples and their gorgeous changing leaves. The sunset views at this historic hotel never get old, either.
If you're looking for luxurious amenities surrounded by top-notch autumn views, this is the hotel for you. Located in the red rock canyons of southwestern Colorado, Gateways Canyons Resort offers various packages to suit your vacation needs - including car rentals to get closer to the colorful trees and stunning landscape.
This quaint hotel perches in the foothills of the Blue Ridge Mountains, complete with breathtaking views of the changing leaves and equally magnificent cuisine made by the inn's chef and owner, earning it a winning recommendation from Food & Wine. Described as whimsical and decadent, this delightful inn is a favorite destination for many Presidents and celebrities.
Fall foliage peaks later in the season down South, so you have a bit more time to plan your trip to this hotel. Plus, you'll get the glitzy Ritz-Carlton experience to accompany the breathtaking views. Travel + Leisure recommended taking advantage of special programming and packages, such as the Family Memories or Swing and Spa options.
The wondrous views await! Head over to Travel + Leisure, TripAdvisor or Food & Wine for even more hotel destination inspiration for your fall foliage getaway.