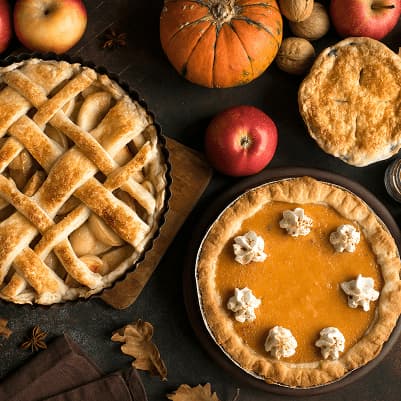 Just when you think you can't stuff another piece of your food in your stomach, they bring out the steaming pies and glorious sweets. It's true: No Thanksgiving dinner is complete without dessert, and you certainly can't say no to a post-feast sweet.
If you're on dessert duty this year, here's some recipe inspiration:
The traditional pies and tarts
Show off your baking talents with some of the most classic Thanksgiving desserts. Food Network compiled the best pie and tart recipes, including characteristic fall ingredients like pumpkin, pecan, cranberry, apple, pear, sweet potato, cinnamon, caramel, maple and bourbon. Food & Wine has more show-stopping Thanksgiving pies and tarts to inspire your dessert menu.
The bold cookies and cakes
If you're feeling like breaking traditions, try baking something other than the classic pumpkin or pecan pie. Here are some recipes to try from Bon Appetit:
Check out the entire collection of more atypical Thanksgiving dessert recipes for more inspiration.
The healthy(ish) sweets
If you're trying to avoid an excessive overload of sugars, carbs and calories, there are some dessert options that are on the healthier side. PopSugar Fitness suggested paleo pecan pie bars, dairy-free apple pie muffins, pumpkin-carrot bars and plenty of vegan recipes that all cut down on the calorie intake. Food & Wine served up more healthy Thanksgiving dessert ideas, from olive oil cake to yogurt and apricot pie to banana cake.
After everyone enjoys every bite of your delicious dessert, it's officially food coma time. Here's to a sweet Thanksgiving!