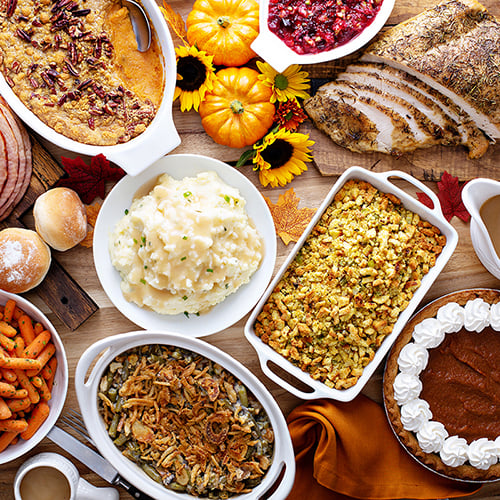 The special day of food, friends and family is just a couple weeks away - and you've already conceded to the inevitable carb and sweets overload. While it's certainly a day to treat yourself, there are actually some promising health benefits for your skin amidst the indulgences of Thanksgiving.
Keep these skin-benefiting ingredients in mind as you plan your Thanksgiving menu:
Pumpkin
Rich in potassium and a great source of vitamins A and B, pumpkin helps renew the skin with the promotion of new cell growth. When pumpkin is in your face wash or skin care product, it further acts as a natural exfoliator, removing dried and dead skin cells to reveal a fresh, glowing complexion.
Cranberries
This tart superfood is full of antioxidants and anti-inflammatory properties, which work to keep your skin clear from pimples and promote clear complexion. It also makes for a wonderful pairing with the Thanksgiving turkey, so load up the cranberry sauce!
Pomegranate
High in antioxidants and vitamins, pomegranates are also great for your skin's health. It's even possible that this superfood has anti-aging properties.
Squash
This favorite fall food is a natural source of vitamins A and C. Jeannette Graf, M.D. and dermatologist, told Women's Health that squash can protect against premature aging as well as provide skin oil-regulating benefits.
Beets
While beets aren't usually the first food to land on anyone's Thanksgiving plate, you might want to give them a try this year. They're rich in vitamins and minerals that can prevent wrinkling and help ease the symptoms of skin allergies.
Sweet potatoes
Far more nutritious than their white-potatoes cousins, these orange goodies contain the antioxidants and anti-inflammatory properties that your skin will love. Just avoid having too much sweet potato casserole, as the sugar overload can have a negative effect on your skin.
Learn more about the superfoods of fall from Health magazine. Here's to a Thanksgiving meal that satisfies your taste buds and your beauty routine!