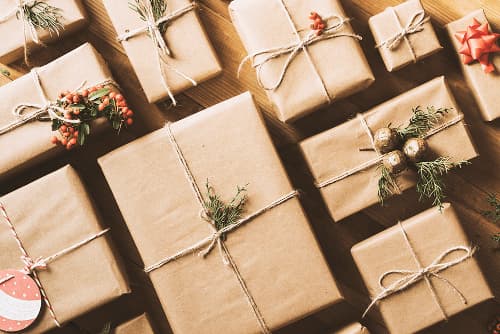 Step one: Make your list. Step two: Secure the gifts. Step three: Wrap the presents before the big day.
Don't settle for the easy gift bags and simple wrapping paper this year. Instead, get crafty with these holiday gift wrap ideas:
Customize your wrapping paper
Start with brown parcel paper as your blank canvas, and then add your own creative spin. HGTV recommended using a woodblock stamp and white ink to give it a rustic yet modern pattern. You can also give it extra oomph by attaching fresh seasonal greenery, such as mini wreaths, kumquats or holly sprigs. Paper trees and ribbon also make for festive finishing touches.
Don't limit yourself to the traditions
Go for unexpected shades and color combinations to give your gift wrapping a sophisticated and modern twist. For instance, throw in some purples to complement the classic Hanukkah blue or use burgundy, pink, coral and turquoise to upgrade the traditional red and green of Christmas. You can always top it off with seasonal finishing touches, such as candy canes, ornaments, menorahs and ribbons, to make sure it still has a holiday feel.
Use the scraps
How many times have you thrown away endless scraps of wrapping paper while trying to prep your holiday gifts? Don't toss them this year, and instead borrow HGTV's genius idea of using the strips of patterned paper in place of ribbons and bows on other gifts wrapped in solid colors.
Try furoshiki
Even more environmentally friendly than upcycling the paper scraps, this Japanese style of wrapping gifts uses a piece of cloth, beautifully tied in a knot at the front. Here's a guide to furoshiki gift wrapping from Elle Decor.
No matter what's inside the thoughtfully wrapped gift box, you'll get a 10/10 on presentation this holiday season.