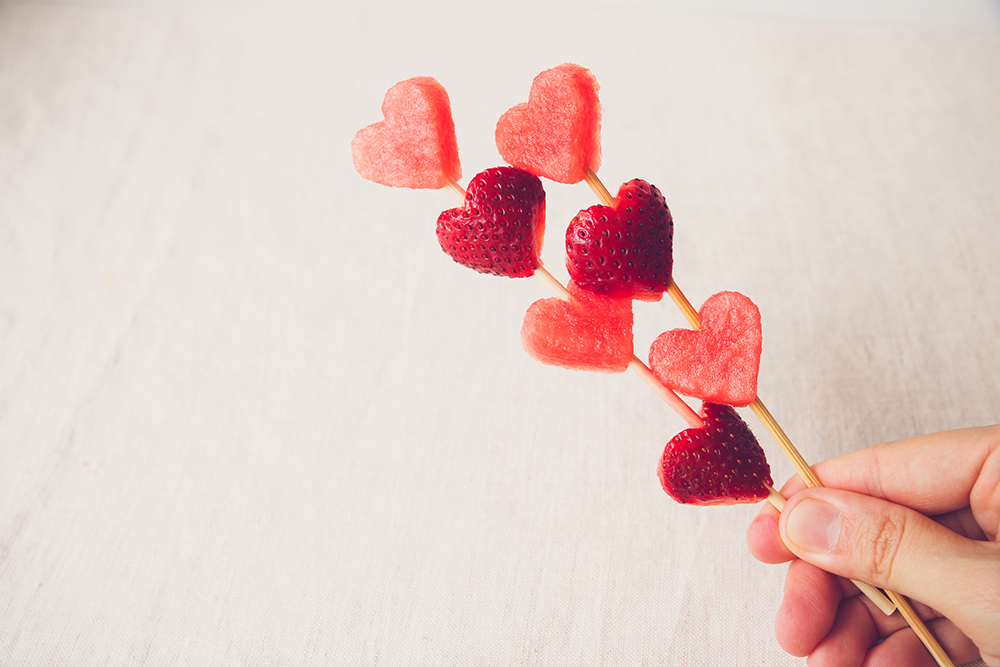 When we think about Valentine's Day, chocolate is always top of mind. While we all deserve to indulge in a box of heart-shaped chocolates, you can also throw in some healthy snacks and drinks to celebrate the holiday.
Try these healthy Valentine's Day treats:
Heart-shaped fruit kabobs
Get out the heart-shaped cookie cutter because it's time to make some Valentine's Day kabobs. This recipe calls for watermelon and strawberries, namely because they're the iconic colors of the holiday. However, feel free to use other fruits - especially the kind your special someone adores.
Frozen yogurt bites
This recipe for chocolate-covered strawberry frozen Greek yogurt bites from Two Healthy Kitchens has a lot going for it. For starters, it only takes three ingredients: Greek yogurt, strawberry jelly and chocolate chips. Plus, these bites take just five minutes to prepare and they're great for vegetarian and gluten-free diets.
Breakfast-in-bed goodness
Make a healthy breakfast to kick off your romantic day. Food & Wine served up several whole-grain breakfast ideas, including raspberry scones, polenta pancakes, sweet quinoa and muffins. These guilt-free banana oatmeal pancakes from Well Plated or loaded heart-shaped omelet muffins from Skinny Taste will also do the trick.
Better-for-your-heart cookies
If you're set on making cookies for holiday, try swapping out some of the classic ingredients with healthier alternatives. For instance, whole-wheat and nut flours are healthier versions. Honey can replace sugar, apple sauce works like butter or oil and skim milk is a healthy substitute for heavy cream.
Romantic cheers
Toast to your love with these red and pink cocktail recipes from Shape magazine. While some are better than others, the magazine picked ones on the healthier side - or at least recipes that call for fresh fruit and vitamin-rich ingredients. For instance, the date syrup and pomegranate tequila coolers are made with juices high in vitamin-C, while the purity berry H20 calls for low-calorie vodka and antioxidant-rich berries.
Conversation cuties
Ditch the sugary conversation heart candies for this healthier alternative from Forkly. Simply write loving messages on clementines and send them to work with your better half and to school with your kids for a sweet lunchtime snack.