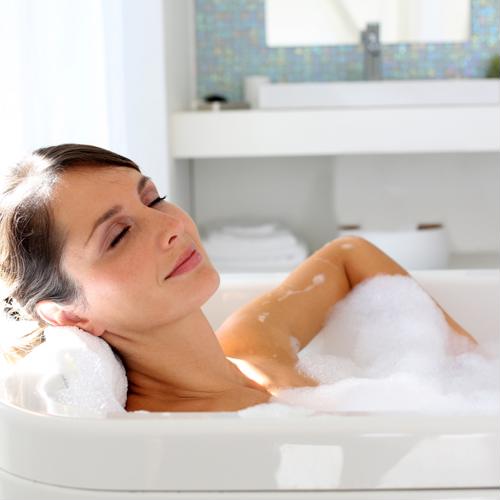 You can treat your special someone and your favorite gals on Valentine's Day, but there's another very important person you can't forget this year: you! Love yourself with some well-deserved self care this Valentine's Day. Here's some inspo:
Love your skin
A self-care day calls for pampering your skin. Use your favorite ELEMIS skincare products to take a relaxing bath, scrub away dead skin and apply a rejuvenating face mask. Cleanse away all the negativity and reveal your freshest skin.
Love your body
Pampering yourself on Valentine's Day also means taking care of your body. Show your temple some love by doing your favorite workout, going for an afternoon stroll, trying meditation, eating nourishing meals, prioritizing quality sleep and establishing routines to maintain positive habits beyond Valentine's Day.
Love your spaces
Living and working in messy spaces can negatively impact your mood, even if it's subconscious. Mindbodygreen suggested decluttering and organizing your spaces for a freeing and uplifting experience. Create piles of clothes, books, office supplies, furniture and other items that you're ready to part with, and then take them to a local donation center. Once your space is clean and tidy, light some candles, turn on the mood lighting and cuddle up with a good book or movie.
Love your sweet tooth
We all associate Valentine's Day with chocolates and candies, so don't hesitate to have a few sweet treats. Go for some dark chocolate that's not only sweet but also has antioxidants and anti-inflammatory properties. Alternatively, whip up some of these healthy Valentine's Day treats to indulge your sweet tooth without going overboard.
Love your self-care rituals
Remember that you deserve more than just one day to yourself. Dedicate some time every week to recharge and revamp your spirits. Your self-care rituals can be as simple as going to sleep an hour earlier each night or taking a bath once a week. Alternatively, you may want to start practicing meditation on a regular basis or trying your hand at a new creative endeavor.
Here's to you on Valentine's Day and every day!