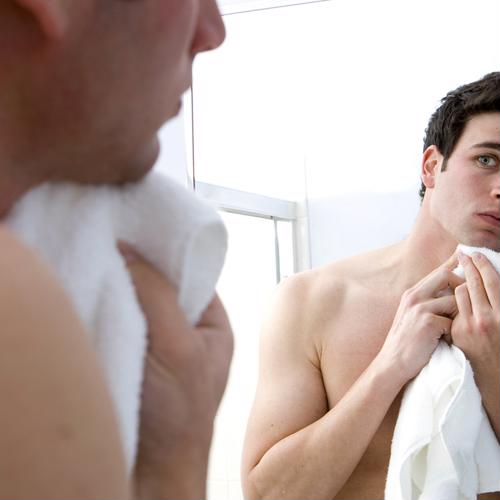 When it comes to skincare, men generally find comfort in either a bare-bones or virtually nonexistent routine. Don't fall into the trap!
Revamp your skincare routine with these grooming tips for men:
Wash your face on the reg
Don't be the guy who rarely cleanses his face! Ideally, you'll want to wash your face at least once a day as well as after every workout, according to the American Academy of Dermatology. If it helps to form the habit, plan to wash your face every time you shower.
Ditch the bar soap
Bar soap is fine for your hands - but not for your face. It can have harsh ingredients that dry out your skin. Instead, try the ELEMIS Deep Cleanse Facial Wash for a refreshing clean that's suitable for all skin types. It can remove impurities, prevent ingrown hairs and replenish essential moisture. Bet your bar soap can't do any of that.
Shave like a pro
Master your shaving technique for the look you want without harming your skin in the process. The AAD has some tips, including:
Don't stretch your skin while shaving!
Wet your skin and apply shaving cream before taking the razor blade to your skin.
Shave in the direction your hair grows.
Rinse the blades after every swipe.
Use your blades for seven shaves max to avoid irritation.
For the clean and close shave you want, try the ELEMIS Ice Cool Foaming Shave Gel to prevent razor burn and leave your skin feeling smooth, soft and refreshed.
Always moisturize
Moisturizer is not just for when your skin feels especially dry. You'll want to use it on a daily basis to prevent wrinkles and brighten your complexion. Men's Journal advised applying moisturizer when your skin is still damp after washing. That way, the dampness will help seal in the hydration.
Lightweight, fresh and non-oily, the ELEMIS Daily Moisture Boost is a classic choice for daily hydration. The ELEMIS Pro-Collagen Marine Cream is a great option if you want a moisturizer that can also reduce the appearance of fine lines and wrinkles.
Believe in sunscreen
Sun damage can lead to dryness, wrinkles and age spots so be sure to protect your skin with sunscreen when you're headed outdoors.
Here's to better skincare! You got this.