FOLLOW US: Instagram | Facebook | Twitter | Pinterest
It's finally summer and you're ready to kick back and, "achoo!" Well, that definitely wasn't something we were hoping for. The stifling summer heat can trigger allergies and we want you to be prepared. Here's a tasty recipe that can help fight off those pesky seasonal allergies.
Turmeric Smoothie Bowl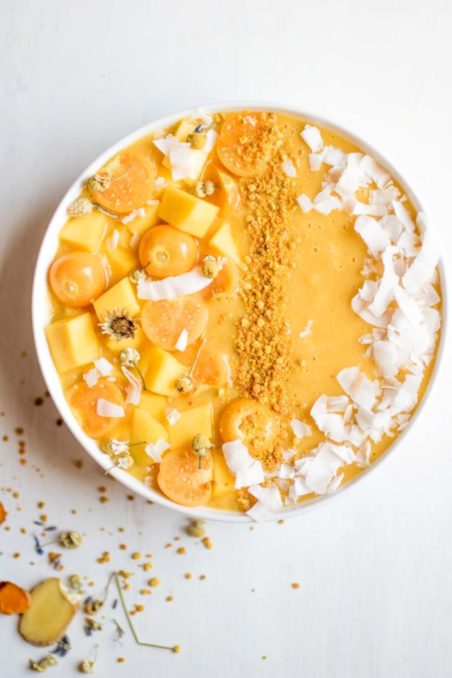 About The Bowl:
Thanks to Abra's Kitchen, we have found a summer must-have. This nutrient-dense recipe consists of bee pollen, Camu Camu powder, turmeric, and fruits such as mango and coconut. Essentially, you'll be loading up on natural antihistamines, or allergy blockers, and Vitamin C. What can be better?
Here's what you'll need:
- 1 cup of frozen cauliflower
-1 cup of frozen mango
-1 orange
-1/2 lemon
-1-inch piece of fresh turmeric
-1 teaspoon of Camu Camu powder
-1 tablespoon of coconut butter or oil
-pinch of black pepper
-1/2 cup of water
-1 scoop of collagen peptides (optional)
Once you have all of these ingredients, blend them all together to get a smooth and thick consistency, and pour into a large bowl. You've blended everything together, but you're not done just yet.
To give your smoothie bowl that final touch, add your desired amount of these sweet toppings:
-Coconut shavings
-Golden berries
-Mango
-Bee pollen
With your refreshing smoothie bowl in hand and the pool by your feet, we say it's about time you dive in!