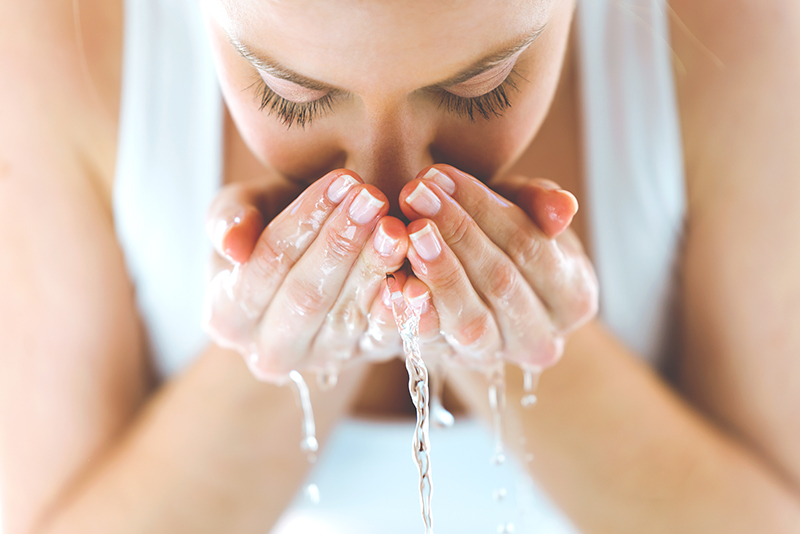 FOLLOW US: Instagram | Facebook | Twitter | Pinterest
As the largest organ in our body, keeping your skin healthy is of utmost importance. It is our first barrier against infection and the billboard of our body. Healthy, glowing skin isn't about instant gratification; it's about maintaining a good skincare routine.
WHAT IS YOUR TYPE?
First things first, discovering what type of skin you have is key. There are dry to oily skin types, sensitive to normal skin and even combination skin. Dry skin can be flaky and rough. Oily skin appears shiny. Sensitive skin is delicate and may sting with products. Normal skin is clear without being sensitive and combination skin can be dry, while oily on your T-zones. Identifying this is key to creating your tailored skincare routine.
TTS INSIDER: Cleanse at night to get rid of the day's dirt and always wash your face after a workout. Sweat clogs your pores!
Dry skin needs a gentle cleanser while with oily skin you must avoid heavy creams. Combination skin means the challenge of finding a cleanser that helps dry areas without overwhelming oily ones. If you have acne blemishes, find a lightweight oil-free moisturizer that won't block your pores.
BEAUTY EXPERTS DISH ON THE ULTIMATE SKINCARE ROUTINE
STEP 1: CLEANSE
Not all cleansers are equal. You should have about two in order to cover your bases depending on how much cleansing your face needs. Sporting makeup? Cleansers that deep clean and create less friction while washing are optimal to avoid pushing and pulling of the skin. A daily nourishing cleanser is your go-to if you are not wearing makeup. This one should be softer on the skin as you will need less of a deep cleanse. Try ELEMIS Pro-Collagen Cleansing Balm which can also be used as a mask. To cleans properly, place the product on your fingertips and move them counterclockwise around the face, starting with the cheeks.
STEP 2: EXFOLIATE
Keep your skin glowing and ready to absorb the most nutrients from your skincare products by exfoliating twice a week. Unclogging pores will allow for the best absorption while also removing dead skin cells that dull the face. For a gentle exfoliator, opt for the "scent-sational" and fan-favorite ELEMIS Papaya Enzyme Peel that uses natural fruit enzymes to reveal your glowing skin. For a stronger, re-energizing exfoliation, try the Elemis Skin Buff. The phytoplankton will bring new life to your skin while the chamomile has a calming effect.
STEP 3: TONE
The purpose of all toners is to rebalance the skin's PH levels by removing traces of cleanser while calming and nourishing it at the same time. While all do the above, each toner has its own strengths. For instance, ELEMIS Balancing Lavender Toner will also help repair the skin while combatting an oily T-zone, making it ideal for someone who is acne-prone. On the other side of the spectrum, someone with very dry skin will need a toner that rehydrates such as ELEMIS Rehydrating Ginseng Toner.
STEP 4: MOISTURIZE UNDER THE EYES
Pay attention to your peepers first. Your eye cream should always be used before your facial moisturizer. It is essential to keep that sensitive skin hydrated and nourished. If you have bags under your eyes or don't drink enough water, this is especially key. lightly dab a small amount of eye cream using your ring finger. For anti-aging benefits, opt for ELEMIS Pro-Collagen Eye Renewal which reduces the appearance of fine lines and wrinkles around the delicate eye area. To plump and firm, try ELEMIS Pro-Definition Eye and Lip Contour Cream.
STEP5: BOOST YOUR SKIN WITH A SERUM
To boost your beauty routine, a serum is in order. For a detox, ELEMIS Cellular Recovery Skin Bliss Capsules provide a relaxing aroma and work to remove any unwelcome toxins. To combat aging and inflammation, ELEMIS Pro-Collagen Marine Oil is your best bet. For an overnight recovery and to give your skin the 'I have slept 10 hours,' appearance, ELEMIS Peptide4 Night Recovery Cream Oil is your superhero.
STEP 6: MOISTURIZE YOUR FACE & NECK
A crucial step in the skincare process, your moisturizer is your best skincare friend. It's got your back every day whether you are thinking about it or not. Your choice of moisturizer is highly-personalized and the area with the most variety. Moisturize in the morning and at night for the best glow possible. If you have to choose between one or the other, always choose a day cream. However, incorporating a night cream will help nourish and renew the skin overnight.
TTS INSIDER: Wait for your favorite moisturizer to go on sale throughout the year. TIMETOSPA has been known to do three for two promotions. Subscribe to our emails here or follow us on social media for the latest promotions.
STEP 7: SLATHER ON THE SPF
Daily UV rays can easily ruin all of that work in your new iron-clad skincare routine by damaging and killing skin cells, eventually causing wrinkles and uneven skin tone. Let's not forget overexposure to the sun is the chief cause of skin cancer. Use a zinc-based sunblock or a moisturizer with SPF such as ELEMIS Pro-Collagen Marine Cream SPF 30 to keep you protected under the harsh sun. You'll thank us later.
Don't forget to share pictures or video of your new skincare routine with us on Instagram by tagging #timetospa.