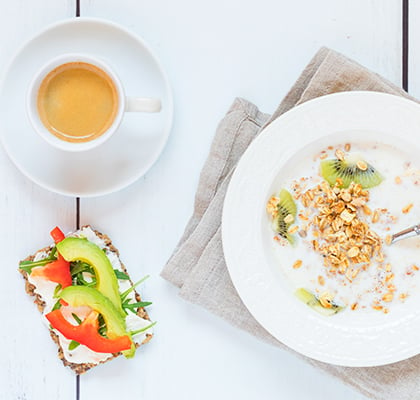 Rise and shine, hop in the shower, get dressed and don't forget breakfast before you rush out the door. It's the most important meal of the day, giving you the fuel for success. Follow up with some healthy midday snacks and you'll be all set to power through with an energetic, go-getter spirit. Here are some easy breakfast and midday snacks to get you started:

TOASTY MORNING
You may be tempted to grab a breakfast sandwich on the go, but you can save yourself money and calories by making a healthier breakfast toast at home. Plus, there are plenty of topping combinations so you'll never get bored of this go-to breakfast. For inspiration, try these
healthy breakfast toast recipes
from SELF magazine, including toppings like chia almond butter, hard-boiled egg and herb, salmon and avocado and ricotta with pears and honey.

BREAKFAST PREP
If you still struggle to rise early enough to cook breakfast, go for a meal you can prepare in advance. These
oatmeal cups
from Kitchn will do the trick - and you can even easily transport them elsewhere for a filling mid-morning snack. Simply put your desired oats and favorite toppings in a covered jar, and then add water and microwave the container when you're ready to eat. Prep these on Sunday evening when you're more relaxed and you'll be good to go for busy weekday mornings.

PM PROTEIN BOOST
The key to a fulfilling, energy-boosting snack is protein. Stave off midday hunger with these
portable, high-protein snack ideas
from Greatist, such as nut butter boats, deli roll-ups, pumpkin seeds, hummus dippers, popcorn, kale chips and roasted chickpeas. If you're looking to stock up on some healthy snacks from the grocery store,
consider these top picks
from Delish.
With a healthy amount of fuel, you'll be ready to take on the day and power through the afternoon. For more recipes,
click here.