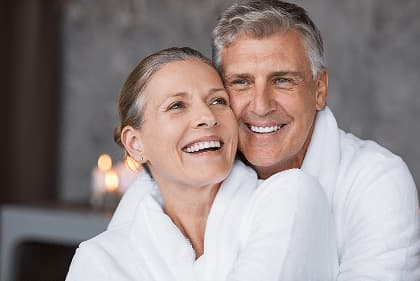 FOLLOW US: Instagram | Facebook | Twitter | Pinterest
"Enjoy yourself. That's what your 20s are for. Your 30s are to learn the lessons. Your 40s are to pay for the drinks." – Carrie Bradshaw,

Sex and the City
Legend has it that if you need guidance on life and love, in your 20s, 30s, 40s, 50s or beyond turn on Sex and the City. Carrie, Samantha, Charlotte, and Miranda will inspire you to slip on Manolo's and leave your money where you can see it- hanging in your closet because some things never go out of style.
One of our favorite TIMETOSPA rituals, that never goes out of style, is self-care especially for the first thing anyone you meet sees - your skin. Our experts share the best skincare tips at every age:
20s
Your 20s are about enjoying your youthful radiance and adopting skin rituals that will help you keep that glow as you age. Wearing SPF and investing in quality makeup are ways to create a healthy skin foundation. Make sure to boost your skin routine by adding a nourishing oil before you use a moisturizing cream. ELEMIS Superfood Facial Oil hydrates your skin with antioxidant-rich superfoods to keep your skin healthy and bright.
30s
Your 30s are for learning lessons.
Lesson #1: Beauty sleep recharges your skin and a satin pillowcase helps your pores breathe.
Lesson #2: Prevent tired-looking skin by easing into an anti-aging skincare routine that works day and night. ELEMIS Peptide4 Plumping Pillow Facial and Night Recovery Cream-Oil triggers cells to boost the process of renewing and repairing while you sleep, making it the perfect pairing for someone with a busy lifestyle. And who isn't skimming a bit of sleep in the name of their career in their 30s.
While you work, the Peptide4 Eye Recovery Cream-Oil helps revive and restore tired and overworked eyes while the Peptide4 Adaptive Day Cream leaves your skin with a satin-matte finish while releasing moisture when your skin most needs it.
Lesson#3: Stay hydrated to keep your skin plump and your mind at its best.
40s
Your 40s are for fighting signs of aging, by using products that refine skin and boost your beauty regimen with collagen and elastin production, to give that youthful look. This means your beauty routine shoud help your skin stay plump, refined and luminous.
Are you seeing deep-set lines? The ELEMIS Pro-Collagen Oxygenating Night Cream improves elasticity and luminosity. Our skin regenerates while we sleep and our bodies detox between 12 a.m. and 12 p.m., so this moisture-rich cream gel stimulates collagen synthesis, replenishing oxygen lost during the day and providing anti-aging protection around the clock.
50s & Beyond
The 50s & beyond are for finally understanding your skin type and skincare routine. Aging results in loss of tone and definition, so skin needs products that sculpt and contour, like the ELEMIS ULTRA SMART Pro-Collagen Complex 12 Serum, which firms and rejuvenates. The specialized Pro-Collagen peptide technology supports younger-looking skin and improves deep-set lines and wrinkles within 28 days. Gently massage the serum onto your neck and face every morning and evening to combat the signs of aging.
Share your skincare tips with us by tagging @timetospa on Instagram!