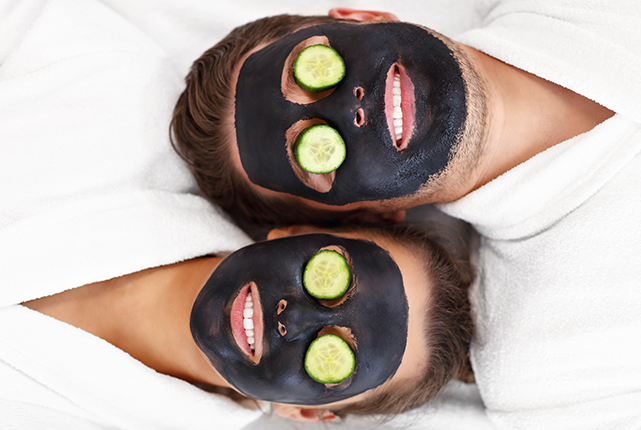 With Halloween coming into our frame of mind, one begins to think about their costumes and masks. At TIMETOSPA.COM, we're thinking about masks too, just not the kind you wear only on Halloween. We are talking about the ones that give back to you!
Known to hydrate, soothe, exfoliate, plump and brighten, skin masks are the perfect accessory for your skincare regimen, especially after all those Halloween parties!
Avoid the scary side effects of costume makeup by prepping and restoring your skin pre- and post-parties. This means pairing your daily skincare routine with masks that cleanse, moisturize and replenish the skin 1 to 3 times per week.

CLEANSE
The right face mask can have true, deep-cleansing power for your pores, lifting impurities. Luckily, we have a mask that does just that while also nourishing your skin.
ELEMIS Pro-Collagen Cleansing Balm can not only be used as a daily cleanser but also a nourishing mask. Post your Halloween fete, massage a teaspoon-sized amount over your face, neck and wherever else you have makeup. Make sure to use your fingertips. Let it remain on your skin for about 10 minutes before gently wiping it off with a washcloth. Voila, a cleansing and nourishing mask!
For any other cleansing mask, a good rule of thumb is that leaving masks on for too long, especially ones with ingredients like clay or acid, can have damaging results that dry out your skin, instead of hydrating ones that heal.

MOISTURIZE
The right face mask can protect your skin and reveal your glowing complexion. By giving your skin a moisture boost pre- and post-Halloween makeup, you can try to prevent any adverse reactions.
For a super moisturizing mask, ELEMIS Exotic Cream Moisturising Mask is your answer. This cream-based mask delivers an intense hydration boost by infusing the skin with the necessary moisturizing ingredients to give your skin supple, soft and soothed.
This is key in any season where you are lathering makeup, running around, sleeping less and possibly drinking more. Whether Halloween or the Holidays, a replenishing mask should your go-to to get your glow back.
In steps
ELEMIS Superfood Vital Veggie Mask
. Within just 10 minutes, nutrient-dense super green extracts like wheatgrass and kale, penetrate your skin leaving your face hydrated, soft and smooth with a perfect autumn outdoor-fresh glow.
Need a more radiant look? A fan favorite, ELEMIS Peptide4 Thousand Flower Mask is mineral-rich and powered by thousands of fallen flowers that instantly revitalize your skin and reduce the appearance of pores.

Above all, the key to masking success is incorporating the treatment into your weekly beauty routine and staying consistent.