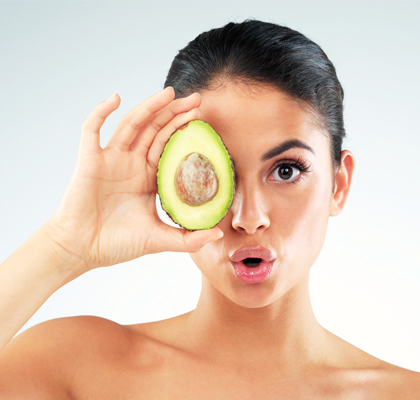 The art of a wholesome mind, body and spirit begins with identifying the superfoods that tame inflammation, especially in the belly region, while boosting compounds that protect your whole body.
Part of keeping your belly slim is keeping inflammation in your body down by consuming fruits, vegetables, whole grains, fish and teas. As for what type of teas, drinking at least one cup of green, ginger or ginseng tea each day will do the trick, according to Cleveland Clinic. Antioxidant-rich foods are a huge help as well. For easy reference, our TIMETOSPA experts put together a list of these items just for you.
AVOCADOS
This superfood of all superfoods is bursting with potassium, magnesium and monounsaturated "good" fats that protect skin cells. Add avocado to your gluten-free toast for a bit of morning glory and all-day glowing skin!
BERRIES
Small but mighty, blueberries and raspberries are packed with vitamins and mineral antioxidants known as anthocyanins. These flavonoids reduce inflammation and boost immune function by decreasing free-radical damage to cells. Some perfect post-workout foods include spinach and blueberries since they decrease muscle soreness.
GRAPES
Grapes contain anti-inflammatory anthocyanins and resveratrol that reduce your risk of illness, much like an aspirin would. A glass (one glass!) of red wine at dinner is an excellent way to soak in the antioxidants from grapes.
TOMATOES
According to Harvard Health, this Vitamin C charged superfruit, is high in lycopene, and should play a prominent role in any detox diet. Tomatoes have a remarkable ability to reduce swelling. Their lycopene is best absorbed in conjunction with healthy fats, so try cooking them into Pomodoro pasta with olive oil to maximize absorption and upgrade your nightly meal!
TURMERIC
A member of the ginger family, this spice contains a potent compound called curcumin that reduces the production of proteins that trigger chronic inflammation. As for the dosage, about 400 mg of turmeric daily has been shown to keep inflammation at bay. Incorporate this spice daily by making yourself a golden latte!
WHAT TO AVOID
As for what to avoid, processed foods are a big no. This means avoiding bacon, frozen meals, and trans-fat-filled fried foods like donuts. All of these foods have been shown to increase inflammation in the body which are linked to chronic issues like arthritis and autoimmune diseases.
BALANCE IS KEY
While balance is always key to these things, try adopting mindful eating habits. Notice what you are eating and use apps that track your food intake if it helps.
While working out, don't forget to feed the outer layers of your skin. Use time-tested and trusted supplements or body oils that help promote your body's detox abilities and reduce a build-up of toxins. One trusted product is ELEMIS Cellutox Active Body Oil. It uses a powerful synergy of essential almond oil, lemon peel oil and Juniperus Communis Oil, which works to help remove toxins from the body and boost a sluggish system.