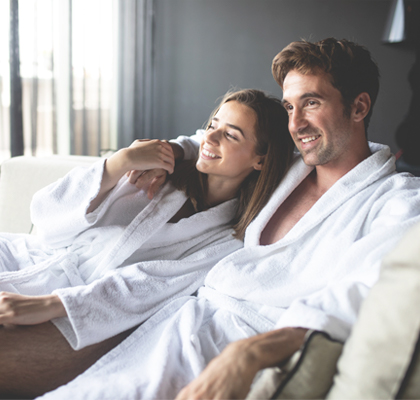 Held every June, Global Wellness Day is a day of celebration of the self and living well; an ode to this positive lifestyle that holds so much value in our lives. First celebrated in 2012, this day is now recognized by more than 150 countries in 8,000 different locations with events ranging from marathons to workout classes to festivals, among others. However, there are simple ways to celebrate right from your home or area.
It is a day for us, so why not celebrate it with a bit of self-care mixed in? With this in mind, here are a few ideas to indulge in wellness on the big day!
A.M. SWEAT SESSION
If this is something you already do daily, then you're off to an amazing start! If not, grab a few friends and pick a morning workout class that you would like to enjoy. You will be celebrating your friendship and a life of wellness! Your options are vast from yoga to a simple morning run, so there is something for everyone. If you don't have time in the morning, try a mini workout session (15-30 minutes) during your day.
MOMENT OF MEDITATION
Wellness goes far beyond the movement of the body; it also encompasses stillness of both the mind and body. Your ability to master and control your thoughts will not only improve your wellbeing but also help you feel happier! Take a moment to clear your mind, focus on your breathing and say a positive affirmation for the day. It's your own personal celebration of this beautiful day and celebration of your inner self.
UPGRADE YOUR SKINCARE ROUTINE
Give yourself a bit of TLC by extending your daily skincare routine. This could be as easy as including your favorite mask while working from home, performing a Gua Sha session for a nice lift and de-puffing with your preferred facial oil, or even using your favorite cold eye mask for a quick pick-me-up.
CREATE A WELLNESS SPACE
This may be something you have been putting off, but if you are currently working from home, it's crucial to your sanity and self! Pick a place in your home, even if it's just a small corner and create a wellness space for yourself. Pick items that relax you, inspire you and help you move. Some examples include a meditation corner, workout area, inspiration lounge and a comfortable journaling area, among others. Take your pick and make your mix!
COOK A WELLNESS MEAL
Scroll through those endless healthy recipes you have saved on Pinterest and choose your favorite one! Today is the day to celebrate wellness from the inside out! Invite a few friends over and enjoy a nutritious meal together!
STEP OUTSIDE
The wellness benefits of nature are endless yet the time you spend to get the results can be as little as 20 minutes. Take a walk or jog around your local park. Plan a beach day or simply enjoy your favorite area on your patio. Soak in the fresh air and health benefits!
KNEAD YOUR WAY TO WELLNESS
A perfect option for a couple, select your favorite body oils and give each other mini massages to refresh the body and mind. Not only will you be spending quality time, but you'll be celebrating a wellness practice that makes you both feel amazing and relaxed.
While these are just a few suggestions, your ability to personalize each wellness experience and choose those that make you happy is all you! That's the beauty of wellness; you can make it as simple or intricate as you would like. Make it count! For more on Global Wellness Day, click here and don't forget to share your wellness experience with us by tagging @timetospa on Instagram or Facebook!