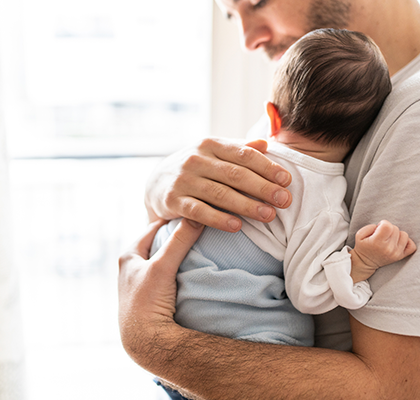 Editor's Note: This article was written by Tim Dux, Senior Vice President of Maritime Operations for OneSpaWorld, the parent company of Timetospa.com. In this article, Mr. Dux shares his experience as a first-time father as well as tips for other fathers facing the same situations.

TO FIRST-TIME FATHERS,

Becoming a dad for the first time a year ago was a life-altering experience, my son astounds me every day and it is true when they say there is nothing stronger than the love you have for your kids. What they don't tell you, or more likely in the crazy beautiful months leading up to the birth you ignore, is that all the clichés you've heard ad nauseam since you announced you were expecting are true. The sleep deprivation, putting we before me, the fact the baby dictates when you can and can't do certain things, like work out, drink water, brush your teeth, take a shower is all true. With that in mind, here are my top tips for staying tip-top during your first year as a father.

PROTECT YOUR EYES


The area around your eyes is not only far more sensitive than anywhere else on your face but the area around your eyes also gives away the fact that you were up four times during the night changing junior's diapers. In those few minutes I have to myself, I have learned to master the art of looking like I've slept eight hours by doing one simple trick. Post-shower, I would dab on
ELEMIS Time Defence Eye Reviver
for men which ensured that, even if I was surviving on caffeine and three hours of sleep, my eyes never gave me away!
INVEST IN AROMATHERAPY


Being forced to sleep on demand but knowing that at any time you may be called into action means the typical sleep aids you used previously are no longer a viable solution- unless you want the neighbors coming over to let you know your baby is still screaming and crying. Pairing a soothing lavender essential oil and using the
Calm app
, meant we were able to create an ambiance and environment that helped us slip into sleep (and slip right back out if called upon by baby).
Dad Tip: Preparing a warm, candlelit bath for your partner paired with a nourishing milk bath not only wins you brownie points but also gets you a fancy (and relaxing) bath too!
DON'T NEGLECT YOUR SKIN


In the ensuing crazy of becoming a first-time parent, I did what I think most first-time fathers do - I stopped doing all the things I was accustomed to doing for myself as we focused solely on the baby. As a result, my skin suffered. To overcome this, my wife and I made a pact that on Sunday nights, once the baby was down, we would do an at-home facial. Our favorites are
ELEMIS Pro-Collagen Cleansing Balm
to leave the skin clean and nourished,
Papaya Enzyme Peel
for exfoliating, the
Balancing Lavender Toner
to balance the pH levels, and
his
and
her
Pro-Collagen Marine Cream. The moisturizer is particularly important because, in the first few months, you spend a lot of time inside and in air conditioning which dries out your skin and makes you look like you've aged 10 years - not become a first-time parent.
HYDRATE, HYDRATE, HYDRATE


Your skin, your waistline and your mental acuity will thank you for this simple step. At times, during year one, it felt like coffee or soda was the beverage of choice given the temporary energy it provides but your body needs water! I brought myself a 1-gallon Yeti flask that I make sure is finished before any adult beverages can be consumed - in moderation of course.

And lastly - the most important message - be kind to yourself. It's hard, relentless and exhausting but a better version of you is a better version of you for them too.