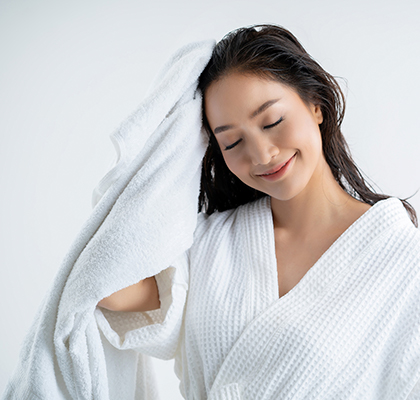 While many of us have forgone the highlights and regular trim, opting for the bun in a scrunchie look while at home, access to hair care tips and tutorials has never been easier. Self-care, including your hair, has come to the top of our minds as we wade through the waters of stress management through soothing experiences that bring us a bit of joy and self-love during our days. Next to socializing with loved ones, the most missed activity is going to your trusted stylist. Your visit to the salon is not only an age-old past time to socially connect, it's a true "me moment" to enhance your external appearance while giving your self-esteem and confidence a boost.
Related: Reach Your Long Hair Goals With These Simple Steps
This begs certain questions. In these times of change, how can you create that own feeling for yourself? How can you care for your hair and ensure that when you do get a chance to see your stylist, you have avoided having undone years of hair artistry? In steps Jess Heger, Director of Salon Operations for our parent company OneSpaWorld, one of the largest health and wellness services companies in the world. Using her decades of experience, she shared with us a few easy tips to care for your locks from root to tip!

HEALTHY HAIR STARTS WITH YOUR SCALP
Think of your hair like a garden. You have the soil and then you have the plants, or flowers, that grow within that garden. Poor quality soil can equal poor quality plants.
"Your scalp environment is the same. Take care of the scalp and your hair's condition will improve," said Heger.
Stress can cause an increase in sebum, which are the natural oils your scalp needs to keep the area from drying out; however, an excess of sebum can cause itchiness and build up. If this sounds like your hair situation, avoid washing it too often which stimulates oil production. Instead, Heger suggests trying a deeply cleansing shampoo such as KÉRASTASE Spécifique Bain Divalent Shampoo for those with an oily scalp and sensitive ends. ­
"This allows for a deep cleanse without harsh scrubbing. Do this once per week, between regular washes and you will notice a lighter feel to the scalp and softer touch to the mids and ends," said Heger. "The answer to an oily scalp is not more washing but a deeper cleanse."

BEWARE OF THE BREAKAGE
If your hair fits into a ponytail then, chances are, you have worn it this way multiple times while working, parenting, homeschooling your kids, etc. When you wear your hair the same way over and over, this can cause physical breakage, that can be compounded when your hair is wet (and in its most fragile state). Avoid this by using a claw-like hair clip that has a combed edged, instead of a scrunchie hair tie that will pull the hair.
"If your hair is wet or damp, use an elixir that will add a layer of protection, reducing breakage," said Heger. Also, invest in a quality hair mask that you use just once per week. Use a teaspoon amount on the mid-lengths and ends after shampooing to give that thirsty hair a much-needed boost of hydration and ceramides."
When used correctly, a professional mask will last about 20 weeks. Apply it to towel-dried hair for 5 to 10 minutes then thoroughly rinse. Similar to a face mask, consistent use of a hair mask will give you amazing results. Treat your hair like your favorite silk shirt or much-loved jeans!
"How you care and wear your hair makes a massive difference to its condition and longevity," said Heger.
While you may be tempted, Heger suggests avoiding cutting your own hair. Instead, opt for products that will prevent and reduce split ends such as KÉRASTASE Resistance Ciment Thermique.

LIVEN UP YOUR LOCKS WITH COLOR
It is incredible how a fresh set of highlights can make you feel or how covering greys can take off years, but when hair salons aren't open, this may leave you tempted to try your own color at home. Consider this first – call your stylist and ask them for a recommendation.
"Hairstylists are like designers. They want to protect their art," said Heger.
If you need to blur or blend regrowth without causing a huge headache, opt for temporary solutions such as tinted dry and conventional shampoos, sprays, and masks. As tempting as it is to follow a video for a DIY balayage, don't forget that takes skill and patience.
"I always recommend leaving any permanent color and highlighting techniques to the professionals to ensure you feel your absolute best. Also, you will save money in the long run by avoiding that dreaded four-hour color correction appointment with your stylist," said Heger.

STOCK UP ON PROPER STYLING TOOLS
From the proper brush to your hairdryer, having the right tools is crucial for your hair care routine at home and on-the-go!
"I have recently fallen in love with my mini travel hairdryer, while I do love my Keratin Complex styling tools," said Heger. "Although it doesn't pack the punch my ionic hairdryer does, my mini dryer has been brilliant for trying new styles and looks as it's light, so you don't get the aching arm we are all familiar with when styling."
When trying a new hairstyle, start with the basics and go light!
"Use a mini-sized hair dryer as its lightweight and a little more mobile when getting the angles correct. It's also less bulky when you have a brush in your hand at the same time," said Heger.
Lastly, in a world where Zoom has become the new meeting room and Facetime the new way to catch up with friends and family, how you feel about yourself is so important. Taking 5-10 minutes per week to lather on a hair mask or deeply cleansing your scalp will not only improve your appearance, but it will also improve your mood and overall wellbeing.
For more hair care tips, click here, and don't forget to share your haircare journey with us by tagging @timetospa on Facebook or Instagram.