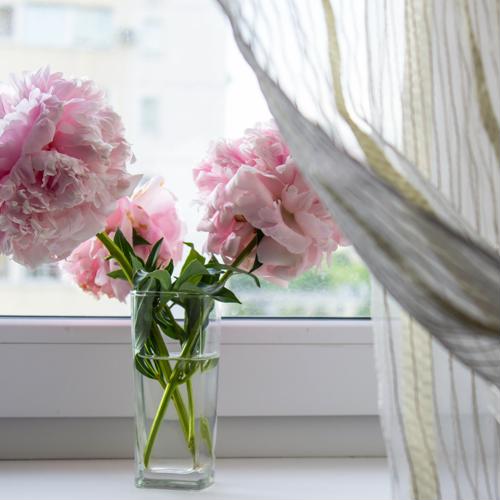 Goodbye heavy coats and hot chocolate, hello dresses and iced coffees. It's about time to welcome the warm breezes of spring, and with the change of season comes an excuse to clean, organize and refresh your spaces – aka spring cleaning your space. Whether you're tackling your home, office or both, here are some ways to get your spaces ready for spring.
Bring The Blooms Indoors
The easiest way to capture the springtime vibe is to bring some fresh greenery into your space. Create a succulent garden or fill your windowsills with several little pots of these easy-going greens. Even if you don't water them every day, they won't give up on you. Just make sure you give them some attention at least once a week.
Treat yourself to some fresh flowers as well. They'll add the vibrancy of the season to any room, and you can choose colors that complement your decor. While not necessary, we won't blame you if you get a bouquet for every room. However, if your office is lacking in the decorations department, flowers are a must to brighten up your space.
Get Organized Everywhere
From your closet to office drawers, use this time to hit restart. Put your winter clothes away and dig out your warmer-weather options, giving them priority in the easy-to-reach areas of your closet. As you're doing that, start a donate pile of all the clothes you didn't use during the winter or the ones you can't see yourself wearing in the upcoming months. Bonus: As you get rid of things, you'll have a valid reason to buy new clothes for the warm weather.
Go through any other junk drawers, cabinets and closets. Make sure you have a trash bag nearby because the idea is to get rid of all the things you don't need and put the items you do want back in an orderly fashion. As you fill the trash and donate bags, you'll feel significantly lighter and refreshed.
If you need new organization solutions, choose storage options that double as decor. Think trendy chests for blankets and pillows, fun hooks for purses and keys and decorative jewelry hangers. When everything has a designated home, you'll be more likely to keep your items organized. Plus, when you display purses, jewelry and other accessories as decor, you'll be inspired to wear more of your pieces because you'll see them every day.
Spring Clean Your Skincare
One area many of us may miss is our vanity area! Yes, with the changing weather must come changes to what you give your skin. Warmer weather means a need for consistent sunscreen for those beautiful days outdoors and double-cleansing since you may be sweating more.
Begin including lighter forms of moisturizer and layer moisture – using serums or facial oils. Think about what your skin usually needs during this new season. If you're trying to achieve a glow, try gentle resurfacing masks or skincare routines.
Post-winter skin can be dull and flaky, so make sure to step up your exfoliation routine with either an exfoliating mask or gentle scrub. This can be done about two to three times per week depending on your skin type. And make sure not to skip on your night cream. Your skin may need some extra TLC after that harsh winter weather.
Give In To The Spring Cleaning
Yes, it seems cliche, but spring really is the perfect time to give your spaces a deep clean. It goes hand-in-hand with the organizing you'll be doing and is the perfect finishing touch for refreshing your rooms. Put on some of your favorite music, throw your hair up and get to work!
Along with refreshing your spaces, this cleaning is actually a great workout, so you'll feel fabulous by the time you're done. Plus, rinsing off in your clean shower and cozying up with freshly laundered bedding will be a lovely reward.
There are certain areas of your home or apartment that don't need regular cleaning but will really benefit from some close attention at this time of year. Think cabinets, windows, bookshelves, and appliances. Follow these tips from House Beautiful to clean these areas like a pro.
Tackle your home on the weekend, then head into work a tad early or stay late to give your office a quick spruce up. You'll feel much more productive when working in a clean and organized space.
With this easy prep, your spaces will be ready for a fabulous season. Happy spring!