AVAILABLE TO SHOP AT TIMETOSPA ON MARCH 27, 2023
The Beauty Revolution is Here! Grown Alchemist is challenging the status quo in the world of beauty, breaking new scientific ground - becoming a source of inspiration for even the most refined clean skincare enthusiasts – and starting March 27, 2023, Grown Alchemist products will be available at timetospa.com! Here is what you need to know about this innovative clean skincare brand:
Clean Beauty with Scientific Innovation
Grown Alchemist is a skincare company dedicated to unlocking the body's natural ability to slow and even reverse the aging process. Their scientifically innovative formulas combine biology and cosmetic chemistry to create "Bio-compatible Beauty" and a holistic beauty system that treats the skin from within. They use only certified organic and natural ingredients, never any parabens or harsh chemical preservatives. Their vegan-friendly formulas contain powerful natural ingredients like fatty acids, antioxidants, and vitamins for optimal skin health.   
Whether it's their range of nourishing cleansers, hydrating serums, or anti-aging moisturizers, Grown Alchemist creates skincare and body care products that work with the body's natural processes, drawing on knowledge from fields such as medicine, nutrition, and genetics. They also use advanced delivery systems to ensure that the active ingredients penetrate deeply into the skin for maximum efficacy. In addition, their formulas are designed to be pH balanced and hypoallergenic, so they're perfect for even the most sensitive skin types. Finally, Grown Alchemist tests all of its products extensively before release to ensure safety and effectiveness. Did we mention they are 100% Cruelty-free?
Sustainable Beauty
Grown Alchemist's commitment to excellence in science and sustainability has earned them the prestigious PETA Vegan-Friendly certification, as well as the Environmental Working Group's Safer Choice Seal of Approval, both of which set them apart from other skincare brands and make their products the ideal choice for conscious consumers.
Enough about who they are, let's look at their innovative skincare products - available on timetospa.com on March 27, 2023.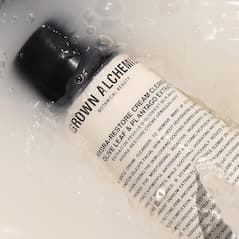 This ultra-hydrating, cream cleanser deeply cleans the skin while also improving its appearance. Grown Alchemist Hydra-Restore Cream Cleanser removes makeup, impurities, and daily grime, while natural minerals and Niacinamide refine the skin tone and the appearance of large pores. Plus, its plant-derived extracts help condition the skin, so it feels supple and not tight after cleansing.
A key ingredient, Olive Leaf Extract helps to reveal the skin's natural radiance. This powerful antioxidant helps slow the visible signs of age lines while deeply hydrating and firming the skin. Other ingredients such as Vitamin B noticeably reduces pore size while yarrow extracts tone and firm the skin. And last but not least, the Polysaccharides and Fucoidans from Red Seaweed provide long-lasting hydration and even out skin tone.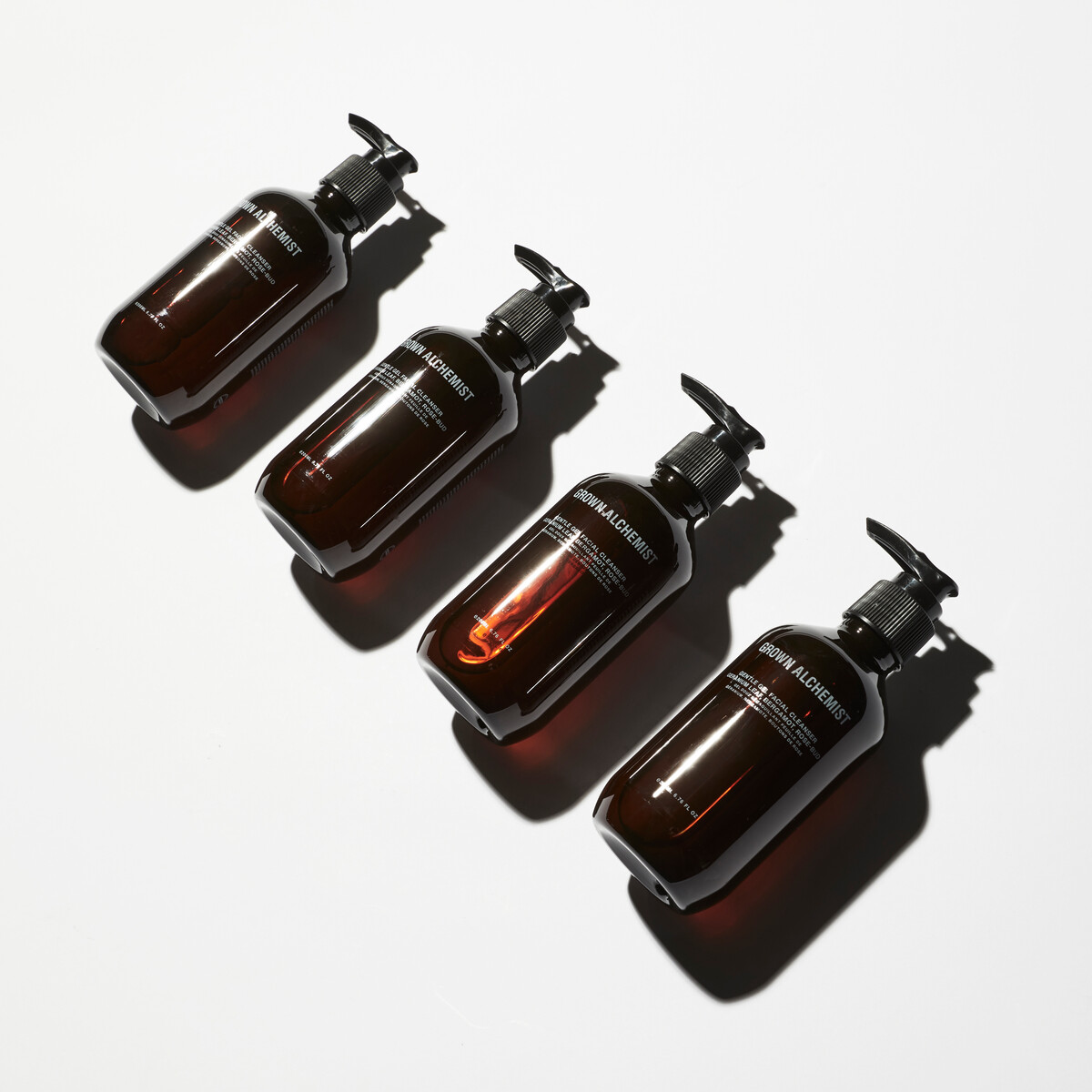 Grown Alchemist Gentle Gel Facial Cleanser is a gentle yet powerful cleanser that helps achieve an even skin tone while effectively cleansing dirt, excess oil, and impurities from your skin. Its blend of plant-based extracts actively work to help prevent visible age spots while calming and nourishing the skin. Bergamot, Willow Bark, and Chamomile are some of the ingredients used to decongest and exfoliate – clearing out dirt and oil while visibly tightening and refining pores. With the reduced formation of acne and blackheads to boot, this cleanser is perfect for all those looking for a luxurious way to rejuvenate their skin.
Grown Alchemist Balancing Toner is an alcohol-free balancing toner that transforms your skin with a luxurious glow. Formulated with Ginseng, Chamomile, and Aloe Vera, this toner helps maintain the skin's natural acid mantle while fading discoloration for a brighter, more even complexion. It also has Olive Leaf Extract, Rose, and Chamomile to hydrate, nourish and soothe the skin. This toner also refines pores and fights free radical damage – making it a product with a lot of power.
Weekly exfoliation is key to a glowing, healthy complexion – making this granule-free exfoliator a key addition to your skincare routine. Formulated using a powerful blend of fruit extracts and plant-based ingredients, it removes dead skin cells, smooths skin texture, and refines the appearance of pores. Quandong, Sweet Almond Oil, and Orange Oil all work together to help calm and soothe for minimized visible skin irritation; add in the Vitamin C to brighten and revitalize your complexion, leaving you looking refreshed, and glowing. It is gentle yet effective, so even those with sensitive skin type can use it.
Do you want softer, suppler, and more youthful-looking skin? Grown Alchemist Instant Smoothing Hyaluronic Acid Serum is your go-to serum and it works quite fast! Its advanced formula helps your skin draw moisture into the lower layers of the dermis and locks it in on the surface for a visibly healthy barrier. Use it daily for instant plumping, smoothing, and softening – what's not to love?
Grown Alchemist Hydra-Repair Day Cream
A high-performance moisturizer, Grown Alchemist Hydra-Repair Day Cream also doubles as a primer. Why? Because it leaves no residual oil or shine on the skin and blurs the appearance of pores. Its formula is packed with plant-derived actives, including aloe and vitamin E. The Camellia and rosehip oil provide phytosterols to visibly hydrate, condition, and improve your skin's appearance. Aloe vera polysaccharides help revitalize your skin while jojoba oil triglycerides rebalance it. Cane sugar helps soothe your skin and repair the appearance of skin damaged by oxidative stress due to harmful Ultra-Violet rays (UV). To top it off, mayblossom reduces sebum levels and the appearance of pores. That's hydration and silky-smooth skin in one! Yes, please.
Experience high-level protection against UVA, UVB, and IR rays with Ultra Sheer Zinc Oxide - a natural mineral-based formula that won't leave a white residue. Rosehip Oil with Omegas 3, 6, and 9 effectively firms skin, reduces fine lines and wrinkles and leaves skin feeling silky smooth. Parsley Seed Extract, rich in Flavonoid Antioxidants and Vitamin C, protects skin from free radicals and reduces visible signs of aging. Tri-Hyaluronan Complex delivers intense hydration, with low and medium-weight Hyaluronan molecules penetrating the skin's surface and high-weight molecules delivering immediate hydration.
Take your lip care to the next level with this amazing watermelon extract-infused lip balm! Rich in vitamins and carotenoids, it provides superior hydration, improving the appearance of dry and chapped lips. Antioxidant triglycerides from shea butter and jojoba oil nourish the lips, visibly improving lip texture while also protecting them. Sweet almond and rosehip oil, rich in phytosterols, essential fatty acids, and vitamins, leave lips looking supple and silky smooth for way longer than your typical lip balm. To boot, it leaves a natural-looking sheen on your pout! This clean formula glides on like a dream without any petroleum-based ingredients – making it your ideal clean beauty lip balm.